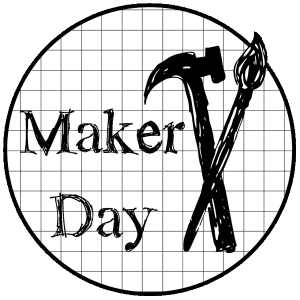 The Carnegie Museum of Montgomery County and the General Lew Wallace Study and Museum are coming together to host our second annual MAKER DAY, celebrating making in all of its forms. This fun, family-friendly, one-day festival celebrates the inquisitive spirit in all of us as we learn, invent, craft, make, play, and celebrate the arts, crafts, engineering, science and technology.
The event will take place on Saturday, June 4 from 1-4 pm at both institutions concurrently. Admission to the event will be free to the public and there is no cost to participate.
We are currently looking for artists, scientists, crafters, tinkerers, and inventors of all ages to exhibit their skills, share ideas, and allow others to experience making. If you are interested in participating or would like more information about this upcoming event, please contact Kat Burkhart at Carnegie@cdpl.lib.in.us or 765-362-4622 or download the 2016 Application and Information Sheet.
What is a maker?
Anyone who creates, builds, invents, designs, or makes something!
Architects
Artificers
Artists
Authors
Carpenters
Carvers
Designers
Draftspersons
Engineers
Framers
Inventors
Manufacturers
Masons
Photographers
Planners
Sculptors
Woodturners
…are just a few!