Saturday, July 1
1 – 4 p.m.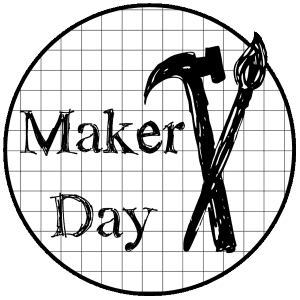 The Carnegie Museum of Montgomery County and the General Lew Wallace Study and Museum are coming together to host our third annual MAKER DAY, celebrating making in all of its forms. This fun, family-friendly, one-day festival celebrates the inquisitive spirit in all of us as we learn, invent, craft, make, play, and celebrate the arts, crafts, engineering, science, and technology.
Maker Day celebrates the spirit of the inventor, the craftsman, the DIY-er. From robot-builders to blacksmiths, anyone who makes things is welcome to exhibit their wares at Maker Day! Show off your latest DIY project, explain your creative process, and demonstrate your skills. There is no booth fee, and makers are invited to bring items to sell.
Attendees will be able to participate in some hands-on projects, talk with creators, and shop in a craft fair atmosphere.
Who is a maker?
Anyone who creates, builds, invents, designs, or makes something!
Lew Wallace was a painter and sculptor. He also designed his Study building and received 8 patents in the United States for his inventions, ranging from railroad innovations to a fishing rod with the reel assembly on the inside of the handle.
Other people who are makers include:
Architects
Artisans
Artists
Authors
Blacksmiths
Carpenters
Carvers
Craftsmen
Designers
Draftspersons
Engineers
Framers
Inventors
Manufacturers
Masons
Photographers
Painters
Planners
Potters
Sculptors
Woodturners
Writers
…are just a few!
The event will take place on Saturday, July 1, 2017, from 1 – 4 pm at the Carnegie Museum of Montgomery County. Admission to the event will be free to the public and there is no cost to participate.
We are currently looking for artists, scientists, crafters, tinkerers, and inventors of all ages to exhibit their skills, share ideas, and allow others to experience making. If you are interested in participating or would like more information about this upcoming event, please contact Kat Burkhart at [email protected] or 765-362-4622 or download the Application and Information Sheet.
Invalid download ID. Invalid download ID.