While there have been six official residences for Indiana's chief executive, only five have been occupied by a Hoosier Governor and the first two in Indianapolis had a checkered history. Indiana's first official Governor's Residence was located in Corydon, the first state capital. This home stood on a small rise overlooking the Statehouse. It served as a home to Governor Jonathan Jennings and his wife, Ann, from 1816 until 1822. While the home no longer stands, it was an important social center and was visited by Presidents Andrew Jackson and James Monroe.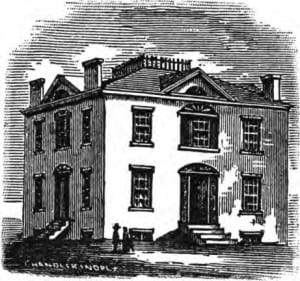 In 1821, Alexander Ralston and Elias Fordham were charged with planning Indiana's new capital. Ralston had worked with architect Pierre L'Enfant in mapping the city of Washington, D.C. and Ralston used some the designs he learned there in the plan he developed for Indianapolis. James Brown Ray, the 4th governor of the State, was the first to live and work out in Indianapolis and he pressed the state government for an official residence. Ray's wife, Esther, was not considered in decisions made with respect to the new governor's mansion, which Ralston ultimately decided should be placed near the center of the city on what is now Monument Circle. This residence was completed in 1827 at the impressive cost of $6,500.
The new elegant yellow brick mansion was well designed for official entertaining, but not for family life. Each floor was cut into four large rooms separated by wide intersecting hallways. The walls had large sliding doors that could be opened for grand entertainments but were not convenient for daily life. There was no kitchen, the rooms were drafty and the basement was damp. When the construction was completed and Esther was shown the house she refused to live there saying that every family in town would be able to inspect her washing on Monday morning.
Ultimately, no first family ever lived in this first official governor's mansion in Indianapolis. The building was used for the Supreme Court offices and the State Library. In his writings, Lew Wallace said he read almost every book in the state library when his father was governor, so Lew probably knew this building very well. It went on to serve as a bank and a kindergarten before it was abandoned and fell into great disrepair. It was auctioned off in 1857 for $667 and torn down to make way for a park that later became Monument Circle.
In the years between 1827 and 1837, Indiana's governors selected their own places to live and received a housing allowance. When David Wallace became governor in 1837 and he moved his family to Indianapolis, the state legislature provided funds for the purchase of a new official residence and the state purchased the home of Dr. John Sanders for $9,000. This house was located on the corner of Illinois and Market Streets and, coincidently, belonged to David Wallace's father-in-law.
This is the home where David and Zerelda reared their children until David's governorship ended in December of 1840. However, like the first governor's mansion in Indianapolis, this residence also proved to be damp and unhealthy. In 1848, barely ten years after the state had purchased the house, Governor James Whitcomb blamed it for his wife, Martha's, death. She had been first lady for only 479 days, passing away two weeks after the birth of a daughter—a little girl who later became the 22nd first lady of Indiana when her husband, Claude Matthews, was elected governor in 1893. The house at Illinois and Market continued to be used as the official residence through the 1850s and in a sense, Lew Wallace was returning home when he answered Governor Morton's call to service in 1861. Morton was living in the home that Wallace's father had used as Governor and that his step-grandfather Sanders had built. After a short stay, however, Governor Morton found the building unacceptable and refused to live in it. The structure was sold in 1865 and eventually destroyed.
After these two unsuccessful ventures at providing home for the governor in Indianapolis, the State of Indiana did not provide a formal residence for over 50 years. The three homes used for Indiana's governors since 1919 have offered their residents more comfort, space, and privacy and no first lady since 1919 has had to worry about what the neighbors might say about her Monday morning wash.
Source: First Ladies of Indiana and The Governors 1816-1984 by Margaret Moore Post, 1984.