"My God, did I set all of this in motion?"
–Lew Wallace
Ben-Hur: A Tale of the Christ by General Lew Wallace was published by Harper & Brothers on November 12, 1880. The novel was the result of seven years research and writing, most of which was carried out underneath a beech tree near Wallace's residence in Crawfordsville, Indiana.
The novel grew in such popularity during Wallace's lifetime that it was adapted into a stage play in 1899. That dramatization was followed by the motion picture productions in 1907, 1925, and 1959. Since the last film, Ben-Hur has been adapted into several cartoons and a musical.
However, Ben-Hur's impact on American culture is larger than the dramatic adaptations alone. There was a national fraternal organization founded upon Ben-Hur known as the Supreme Tribe of Ben-Hur, which was later reformed into Ben-Hur Life Insurance. There have even been American towns named after Ben-Hur.
Novel
"It seems now that when I sit down finally in the old man's gown and slippers, helping the cat to keep the fireplace warm, I shall look back upon Ben-Hur as my best performance…"
Following up on his first novel, The Fair God (1873), Lew Wallace believed he could make a career for himself in writing. As a result he began a book that would become the best selling book of the 19th century. Wallace proposed to write a tale of Jesus Christ, although he knew a novel with Jesus Christ as the protagonist would be a hard sell with the American public. So he framed to tell the tale of Christ through the eyes of a young Jewish noble he would call Judah Ben-Hur. The story would be complete with plots of friendship, betrayal, revenge, love lost, love regained, redemption, and, of course, a chariot race.
In a preface to an excerpt from Ben-Hur, titled "The First Christmas," Wallace recounts some of the process of writing Ben-Hur, including his famous conversation with noted agnostic Robert G. Ingersoll. Wallace composed most of his masterpiece underneath a beech tree just north of his home in Crawfordsville, Indiana. The final chapters of the novel, especially those dealing with the crucifixion of Christ, were written as Wallace was serving as Governor of the New Mexico Territory.
Ben-Hur was an unusual novel for its time. Most literature had moved away from historical, romantic, adventure fiction by the late 19th century. William Dean Howells typified the new trend by writing realistic fiction about contemporary life. However, Ben-Hur created a resurgence of its literary type. Henry Sienkiewicz's Quo Vadis? is the best example of a popular novel whose author acknowledged that he found inspiration from reading Ben-Hur.
Ben-Hur enjoyed a great advantage in having the juggernaut Harper & Brothers as its publisher. Harpers greatly aided sales of Ben-Hur through its distribution and advertising policies, particularly by including excerpts in school readers. School readers were the major product of most publishers, therefore including an excerpt of the sea battle or the chariot race from Ben-Hur piqued the students' interest enough to go out and buy the novel or at least check it out from the libraries, which often listed Ben-Hur among their most requested books. The novel has never been out of print since its first printing in 1880.
Download the Preface to "The First Christmas" by Lew Wallace.
Stage Play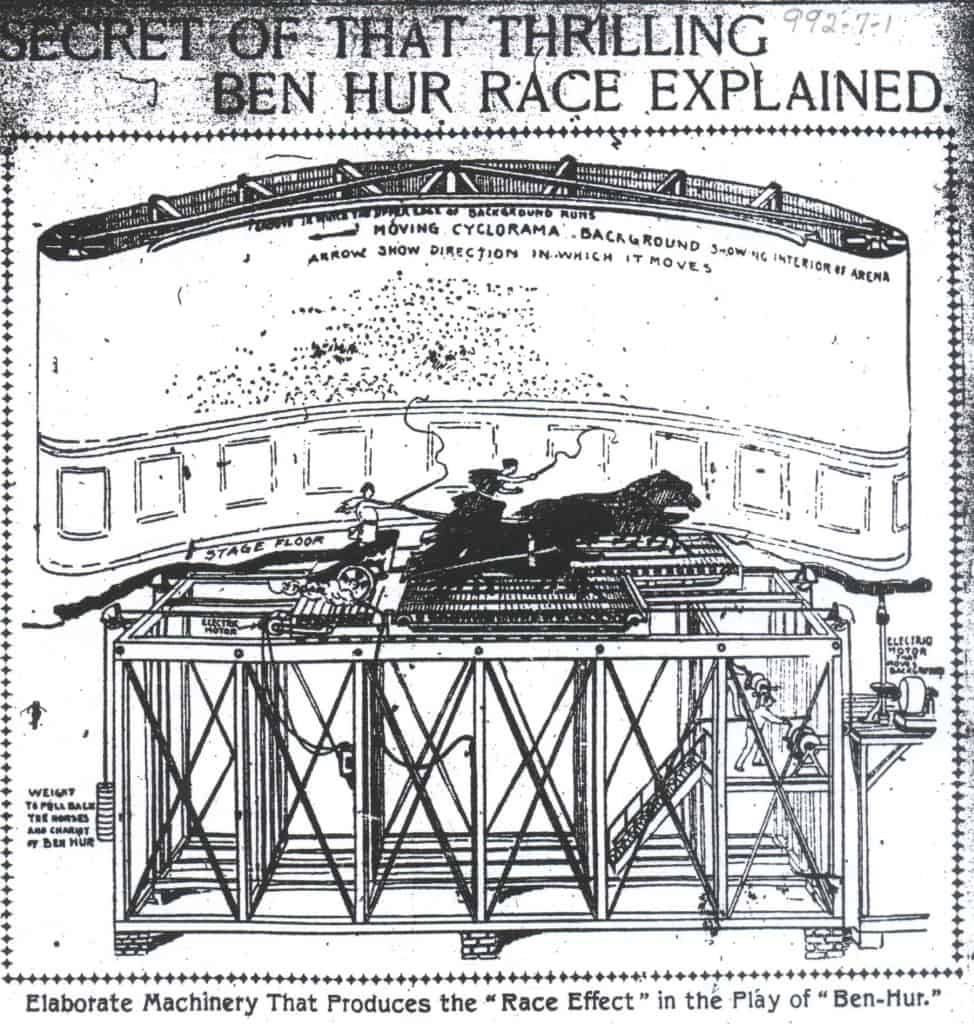 Lew Wallace was doubtful Ben-Hur would translate into a successful stage adaptation. He observed two problems in particular. First was dealing sensitively with the religious nature of the book and the problems with an actor portraying Jesus Christ. The second problem was how a chariot race could be accomplished in a theater, and without a chariot race, it would hardly be Ben-Hur. However, stage magnates Marc Klaw and Abraham Erlanger managed to convince Wallace otherwise. It was agreed that Jesus Christ would only be depicted as a beam of white light. The problem of the chariot race was solved by training eight horses, pulling two chariots, to run on treadmills installed in the floor of the stage. While the horses ran at full gallop on the stage, the background scenery was installed on a cyclorama and moved behind the racing chariots to complete the illusion that the chariots and horses were actually moving.
Ben-Hur opened at the Broadway Theater in New York City on November 29, 1899. The play was adapted for the stage by William Young and directed by Joseph Brooks. Edward Morgan was the first Judah Ben-Hur on the stage, although William Farnum soon replaced him. William S. Hart, who would later achieve fame for his roles in silent westerns, portrayed Messala on opening night.
Ben-Hur took to the road and often held two-week engagements in U. S. cities. The production was also taken overseas and appeared in Europe and Australia. It is estimated that there were over 6,000 performances given and over 20 million people saw Ben-Hur during its twenty-one-year run. The final performance of Ben-Hur was delivered in April 1921.
1907 Movie
In 1907 a "moving picture" company known as Kalem decided to film Ben-Hur. This first incarnation of Ben-Hur on film was fifteen minutes in length and was in no way comparable to the motion picture spectacles that would follow. Kalem viewed the production as inexpensive and hoped to turn a quick profit, due to the phenomenal success of the book and stage play. However, Kalem neglected to seek permission from the Wallace estate, Harper & Bros. (publishers of Ben-Hur), or Klaw & Erlanger (producers of the stage play) to adapt the work into a motion picture.
Henry Wallace, Lew Wallace's son, became aware of this unauthorized version of Ben-Hur when the film was released in the "cheap five cent theatres" in Indianapolis. He promptly fired off letters to interested parties such as Harpers and Klaw & Erlanger. In one letter, Henry wrote, "I can see the finish of the play unless a quick and hard move is made on this form of entertainment. The people will be surfeited with the name no matter how poor the scenes."
It was shortly thereafter that Henry Wallace, Harper & Bros, and Klaw & Erlanger brought suit against Kalem. They charged that Kalem had violated the copyright existing on the book. Furthermore they argued that the film cut into the profits of the stage production, not because it was strong competition against the stage play but because the film was done so shoddily it cheapened the artistic integrity of Ben-Hur. Kalem, on the other hand, argued that the film would serve as good publicity for both the book and the play.
The case was appealed to the United States Supreme Court where it was decided on November 13, 1911, in favor of the plaintiffs. Justice Oliver Wendell Holmes, Jr. delivered the opinion of the court, which upheld the lower court's ruling [Kalem Co. v. Harper Bros., 222 U.S. 55 (1911)]. Kalem was ordered to pay $25,000 in damages, which was likely more than it even cost to produce the film. Due to Henry Wallace's foresight, he is ultimately responsible for securing the intellectual property of authors from copyright infringement by film and theatrical productions.
1925 Movie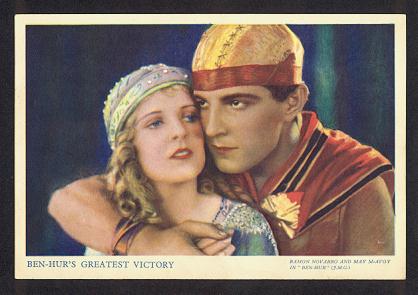 A year after the Kalem case was decided, Henry Wallace was implored to sell the film rights to his father's literary works. Henry responded to these attempts stating, "I will oppose in every way possible all attempts to produce any of General Wallace's work in moving pictures. The reason is because the average moving picture shows are wretched exhibitions utterly unworthy of dignified consideration."
However, in 1915 Henry witnessed D. W. Griffith's masterpiece Birth of a Nation. Perhaps the memorable "Ride of the Klan" scene convinced him that Ben-Hur's chariot race could be filmed equally well. Henry affixed a price tag of one million dollars for the movie rights. At this price no one was willing to pay. However, on August 2, 1921, Henry lowered his demands and settled on $600,000 for the rights to Ben-Hur. By comparison, the most expensive movie made to that date was Intolerance, which cost one million dollars.
The rights were acquired by a group headed by Abraham Erlanger, who was also responsible for bringing Ben-Hur to the stage. The rights were eventually passed to Metro-Goldwyn-Mayer. Filming began in Italy, but production delays and political upheaval convinced MGM studio head Irving Thalberg to return to the states. California had to substitute for the ancient Roman Empire.
Fred Niblo directed the film and William Wyler, who would re-make the story in 1959, was an assistant director. Ben-Hur was a break out role for 25-year-old Ramon Novarro who, only three years earlier, had his first starring role. Francis X. Bushman played Messala to Novarro's Ben-Hur. The production was so stupendous that many Hollywood stars flocked to the set and many stars are said to have served as extras during the chariot race, including Douglas Fairbanks, Mary Pickford, Harry Lloyd, Myrna Loy, and Lillian Gish.
For some, the 1925 chariot race might be better than the 1959 version. Stunt men were brought in to participate in an actual race, with a monetary reward to the winner. In this way, the 1925 race provides more excitement and realism than the later version, which was largely choreographed.
The film ended up costing MGM approximately four million dollars and was one of the most costly films of the silent era. It opened on December 30, 1925, at the George M. Cohan Theater in New York City and received rave reviews. After expenses, the film turned a slight profit; nevertheless, it helped solidify MGM's reputation as a major studio.
1959 Movie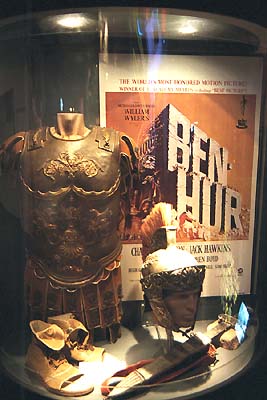 With the advent of television into many American homes in the 1950's many theaters closed and movie studios suffered. MGM was no different and decided to return to Ben-Hur in an effort to emerge from their financial difficulties.
William Wyler, who had already earned two Academy Awards for best director, was selected to direct the film. British actors were cast as Romans and American actors, for the most part, were cast as Jews. Charlton Heston was chosen to play Judah Ben-Hur and Stephen Boyd was cast as Messala. Filming was done in both Italy and California, just as the 1925 production.
Despite some lobbying from Crawfordsville, Indiana, residents to host Ben-Hur's premier, it opened on November 19, 1959, at the Lowe's State Theater in New York City. Ben-Hur's initial release grossed in excess of $40 million.
The 1960 Academy Awards® presented Ben-Hur with eleven of twelve awards for which it had been nominated. The major categories, Best Picture, Best Director, and Best Actor, were all won. Curiously, the only category for which it was nominated but not awarded was Best Screenplay. This faux pas was largely the result of confusion and controversy over who had written the script. Karl Tunberg was credited with the screenplay but others had also worked on the script, including Gore Vidal. Many, however, attribute the initial screenplay to Christopher Fry, but due to a falling out he did not receive credit. Nevertheless, as Charlton Heston delivered his acceptance speech for Best Actor, he made certain to thank Fry for the screenplay.
The 1959 Ben-Hur is a cultural icon. It has become an American tradition to broadcast Ben-Hur over Easter weekend. In 1998 the American Film Institute listed Ben-Hur as one of the 100 Greatest Movies.
Frequently Asked Questions
Is the copy of Ben-Hur I have worth anything?
The value of an antique book depends on its availability and condition. A museum cannot ethically give an appraisal of a book. To determine the value of your book, take it to a reputable used or antique book dealer. To get a very general idea of what your copy MAY be worth, look up the title on a used book or auction website.
Where is the Ben-Hur manuscript?
The Ben-Hur manuscript is housed in the Lilly Library of rare books and manuscripts on the Indiana University campus in Bloomington.
Was anybody killed during the making of Ben-Hur?
See what snopes.com has to say about this question.
What inspired Lew Wallace to write Ben-Hur?
Lew Wallace answers this question in various articles, speeches, and other of his writings. In 1876, after a conversation on a train with a well-known agnostic, Col. Robert G. Ingersoll, Lew Wallace realized that he didn't know as much as he would like to about his own faith. (He attended the Methodist Church off and on throughout his life, but considered himself indifferent to religion.) He thought that the idea of doing research for a book he could write would be the best motivation for him to tackle reading the Bible.
Lew had already written a short story describing the journey of the wise men to Bethlehem–a subject which had fascinated him since he was very young. This became the first book of Ben-Hur, with the rest of the novel describing the "religious and political conditions of the world at the time of the coming," as he says in his Autobiography.
Although he may have been indifferent to religion before writing the book, he says in the preface to "The First Christmas," 1899, that the act of writing resulted in "a conviction amounting to absolute belief in God and the divinity of Christ." To read Lew Wallace's answer to this question in his own words, read the Preface of The First Christmas or the excerpt from his Autobiography "How I Came to Write Ben Hur."