From the Page to the Stage: Ben-Hur as Lew Wallace Knew It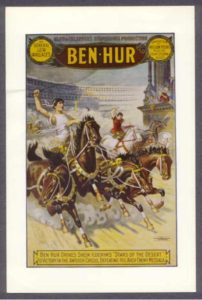 The 2017 exhibit From the Page to the Stage: Ben-Hur as Lew Wallace Knew It opens at 10 a.m. on Saturday, March 11, the first Saturday of the season, in the Carriage House Interpretive Center. The exhibit discusses Wallace's inspiration for writing the novel, the reasons for its bestseller status, and how Wallace wrote, as well as the development of the Broadway play and other merchandising tie-ins.
Lew Wallace's Ben-Hur: A Tale of the Christ, published in 1880, is generally credited with initiating the Golden Age of Indiana Literature. Ben-Hur sold more copies than any other printed work in the 19th century with the exception of the Bible. The subsequent Broadway play ran for more than twenty years in America and overseas, and attracted audiences that included King Edward and Queen Alexandra of England. It was after reading Ben-Hur that President James A. Garfield appointed Wallace to be U.S. Minister to the Ottoman Empire. Ben-Hur's success also provided Wallace with the funds necessary to build his Study, a National Historic Landmark in Crawfordsville, Indiana.
"While Lew Wallace is certainly of interest to Civil War buffs completely separate from Ben-Hur, we probably wouldn't have a museum dedicated to him without the novel," says Museum Director Larry Paarlberg. "Sales of the book and licensing proceeds enabled him to build his Study, which then gives us a chance to preserve his legacy and use it to inspire visitors more than one hundred and thirty years after the publication of the novel."
From the Page to the Stage: Ben-Hur as Lew Wallace Knew It will run through mid-December, 2017. It may be viewed Tuesday through Saturday from 10 a.m. to 5 p.m. After taking in the exhibit for free, visitors may also take a paid, guided tour through the "house that Ben-Hur built." Tours last approximately one hour and are $5 for adults and $1 for students.
The exhibit will run through Friday, December 8.