From Crawfordsville to Constantinople: Traveling with the Wallaces
Lew Wallace enjoyed traveling from an early age, whether he was trying to run away on a flat boat to the Mississippi or hitching a carriage ride to a political rally sixty miles away when he was thirteen years old. Later in life, he would travel to Mexico to fight in the Mexican War. He then traveled all around the United States during the Civil War.
Lew's wife, Susan Elston Wallace, made a name for herself as a writer of travel essays. Prior to the publication of Ben-Hur in 1880, Susan was arguably as well known a writer as her husband. She often traveled with Lew to his military and diplomatic postings, and her witty and insightful commentary on her experiences made for popular reading in publications such as The Atlantic and Harper's Monthly.
"From Crawfordsville to Constantinople" will discuss Lew and Susan's military, political, and diplomatic travels. They visited locations such as Mexico, Florida, California, New Mexico, the Ottoman Empire, Israel, and more.
From Crawfordsville to Constantinople: Traveling with the Wallaces opened on Saturday, March 9, 2019. It may be viewed free of charge from 10 am to 5 pm Tuesday through Saturday after that. The exhibit will run through early December 2019.
After taking in the exhibit, visitors may also take a paid, guided tour through the "house that Ben-Hur built." Tours last approximately one hour. Tours cost $7 for adults, $5 for active military, $3 for students 13-18, and $1 for students 7-12. Children 6 and under get in free.
Where's Lew?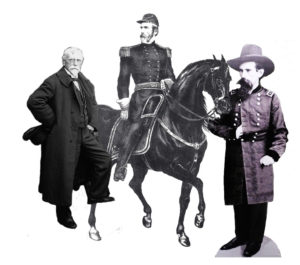 As part of our exhibit, we're inviting our visitors and supporters to take part in an interactive project we're calling Flat Lew!
Based on the Flat Stanley project, this project lets you download a printable Lew Wallace that you can take on your travels with you.
Snap a selfie with Flat Lew or put him in front of a pretty landscape or landmark, and post it with the #WheresLew and #FlatLew hashtags and we'll repost it on our Instagram!
Download
If you're local to Crawfordsville, we have Flat Lews for you to check out from the Carriage House!