Lights, Camera, Epic! Ben-Hur on Stage and Beyond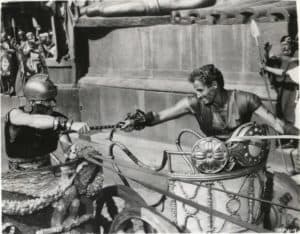 Our 2018 exhibit focuses on the Ben-Hur movies and marketing tie-ins. Discover how Ben-Hur is responsible for Mickey Mouse's continued existence. See who almost played Judah instead of Charlton Heston! Find out whether the urban legends about people dying on set are true. Learn about how the 1959 Ben-Hur saved MGM from bankruptcy!
Visitors to the 2018 exhibit will be able to view costume pieces from the 1925, 1959, and 2016 versions of Ben-Hur and see a picture of Charlton Heston visiting the General Lew Wallace Study & Museum.
We are currently finalizing plans for several excellent programs for 2018, including a talk by Dr. Howard Miller near the time of the exhibit opening, so stay tuned for more information as it develops!
The exhibit opens on Saturday, March 10, and may be viewed free of charge from 10 am to 5 pm.
Lights, Camera, Epic! Ben-Hur on Stage and Beyond will run through mid-December, 2018. After taking in the exhibit for free, visitors may also take a paid, guided tour through the "house that Ben-Hur built." Tours last approximately one hour and are $5 for adults and $1 for students.
The exhibit will run through Friday, December 14, 2018.