Versatile Genius: Lew Wallace's Creative Endeavors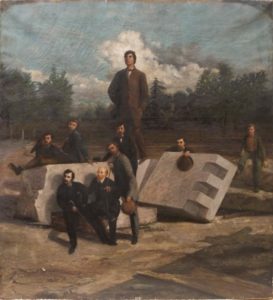 For fourteen years, the General Lew Wallace Study & Museum has created an exhibit in the Carriage House dedicated to one aspect of Lew Wallace's life. In 2021, we continue with this approach by exploring his art and music.
In addition to his literary endeavors, Lew also sketched, painted, and sculpted. His creativity also extended into the musical realm. Not only did he play the violin, but he also learned to make violins late in life. Artifacts on display include his violin and Susan's guitar.
The 2021 exhibit features works by Wallace that are not commonly seen, as well as his more famous paintings, such as "The Conspirators." We display Lew's original sketches for Susan's book Ginevra. The exhibit also includes many of Lew's art tools, such as paintbrushes, pencils, a watercolor box, and more.
"Versatile Genius" can be viewed during Museum hours: Tuesday through Saturday from 10 am to 5 pm Eastern Daylight Time. There is no admission charge for viewing the exhibit. Admission is only charged for guided tours of the Study.