"Everyone should write a book, if only to see how much work goes into even the slight volume I send you." –Susan Wallace
Susan Elston
Susan Arnold Elston was born December 25, 1830, to Major Isaac Compton and Maria (Aiken) Elston in Crawfordsville, Indiana. Susan was the fourth of nine children and often had to find a place to escape the busy household to read and write in peace. Her mother, a Quaker, sent her to Quaker boarding school in Quaker Hill, New York.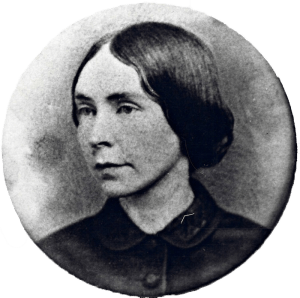 Susan returned to Crawfordsville at 18 and met Lew Wallace at a party at her sister and brother-in-law's home. Although Lew was a struggling lawyer and her father did not approve of the match, Lew and Susan became engaged. The pair married May 6, 1852, and moved to Covington, about thirty miles from Crawfordsville.
Susan Wallace
Henry Lane Wallace, the couple's only son, was born February 17, 1853. Soon after Henry's birth, the couple returned to Crawfordsville. Susan, a gifted musician, sang in the Methodist Church choir and enjoyed playing her guitar. She also joined the Crawfordsville Literary Society.
Susan's Travels
Susan often traveled to be near Lew during the Civil War and his appointments to the New Mexico Territory and the Ottoman Empire. She also spent time with her sister, Joanna Lane, in Washington, D.C. While exploring the Governor's Palace in New Mexico during Lew's term as Governor, Susan discovered a room filled with historic documents from New Mexico's past, some three hundred years old. Alarmed at the condition of these documents, Susan alerted her husband about her discovery. Lew hired an archivist fluent in Spanish and English and secured the safe storage of these priceless documents.
Susan Wallace, Writer
Like her husband, Susan Wallace was an accomplished writer. Her works include The Storied Sea, a series of essays about her travels to the Ottoman Empire (1883); Ginevra: A Christmas Story, a gothic Christmas tale (1887); The Land of the Pueblos, a collection of essays about the West (1888); and The Repose in Egypt: A Medley (1888), and Along the Bosphorous and Other Sketches (1898), compilations of essays about her travels in Turkey and Europe. Susan also wrote poetry and articles for national newspapers.
Lew and Susan often collaborated on their writing projects. Lew drew the illustrations for several of Susan's books. Susan served as Lew's trusted editor. Additionally, after her husband's death in 1905, Susan finished and published Lew's Autobiography with the help of Mary Hannah Krout, another Crawfordsville author.
Susan Wallace died on October 1, 1907, and is buried in Oak Hill Cemetery in Crawfordsville next to her husband.