Note: Most links on our gift shop page are Amazon Affiliate links. In plain language, that means the Lew Wallace Study Preservation Society receives a small commission for each item purchased through these links. Thank you for your support of the society and the museum and our mission!
Shop for Museum Publications
E-books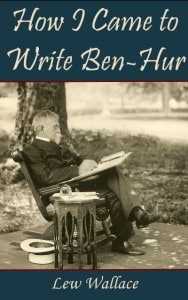 Each year as part of the museum exhibit, we produce a booklet that is available for purchase in our gift shop. In 2015 we created ebooks from all of the booklets. Those are now available for purchase at Amazon.com. We also have a booklet excerpted from Lew Wallace's autobiography, "How I Came to Write Ben-Hur." E-books now available include:
Collective Influence: The Wallace Women – 2007 exhibit booklet
Lew Wallace: Gentleman Scientist – 2008 exhibit booklet
Embattled: General Lew Wallace's Leadership in the Civil War – 2009 exhibit booklet (written by Wallace Scholar Gail Stephens)
Courage and Conflict: Lew Wallace in 1862 – 2012 exhibit booklet
Vindication: Lew Wallace in 1864 – 2014 exhibit booklet
Trials and Tribulations – 2015 exhibit booklet
How I Came to Write Ben-Hur by Lew Wallace
Shop Wallace Books
Museum staff is currently in the process of editing and formatting Lew and Susan Wallace's books. We are reissuing each title as it is finished. Because Lew's books are currently more widely available than Susan's, we chose to focus on releasing her books first. We then moved on to Lew's autobiography and Ben-Hur.
Susan Wallace's Books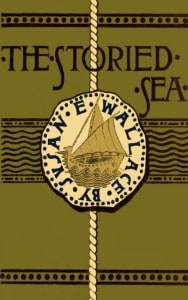 Susan's first book, The Storied Sea, is currently available in paperback or e-book format through Amazon. The Storied Sea is the record of Susan's 1881 trip with Lew to the Ottoman Empire. (Also available as a Kindle e-book.)
Susan's second book is Land of the Pueblos. In the late 1870s, Susan traveled with Lew to Santa Fe and wrote a series of dispatches to the press back East. Land of the Pueblos is a collection of her articles on various topics, including the history of New Mexico, the climate, the geography, and the many cultures who settled there. (Also available as a Kindle e-book.)
Ginevra, originally published in 1886, is the short story of a happy young noblewoman, the men who courted her, the father who loved her, and the tragic fate that awaited her. Our edition is published with the original illustrations by Lew Wallace. (Also available as a Kindle e-book.)
The Repose in Egypt: A Medley is Susan's account of her visit to Egypt. She supplements her account with Egyptian history. She also recounts religious mythology surrounding Jesus, Joseph, and Mary's flight to Egypt. During Susan's own 'repose,' she and her fellow travelers tell each other stories, which are also related here. (Also available as a Kindle e-book.)
Along the Bosphorus and Other Sketches, published in 1898, is Susan E. Wallace's travelogue and reminiscences of her travels along the Bosphorus and to Italy and England. (Also available as a Kindle e-book.)
The City of the King: What the Child Jesus Saw and Heard was published in 1903. This slim volume describing an historic picture of the Jerusalem of Jesus' time, followed by the Jerusalem that Susan and Lew Wallace visited in 1882. (Also available as a Kindle e-book.)
Lew Wallace's Books
Fiction
The Fair God, or, The Last of the 'Tzins, was Lew Wallace's first novel. It relates an account of the Spanish conquest of the Aztecs and was researched and written over the period of about twenty years. Published in 1873, it sold well enough to encourage him to continue writing. (Also available as a Kindle e-book.)
The Study's Hoosier Bicentennial Edition of Ben-Hur: A Tale of the Christ is now available in paperback, complete with a new introduction by Dr. Howard Miller, professor emeritus of The University of Texas at Austin. He taught for forty years, retiring in 2011. During his time at UT Austin, he founded the university's department of Religious Studies.
Lew published his third novel, The Prince of India Or, Why Constantinople Fell, in 1893. The title character presents himself as the Prince of India to the rulers of the Christian and Muslim worlds, in an attempt to unite the world's religions. Apparently at President Garfield's request, Lew researched the novel while he was posted in the Ottoman Empire. Two characters from the novel are portrayed in the limestone frieze around the outside of Lew's study. Purchase the Study's paperback version, complete with a new introduction by Dr. Howard Miller, here: Volume I, Volume II.
Lew Wallace also wrote an epic poem based on Ottoman literature, which was published in a combined volume with his historical drama set during the rule of Emperor Commodus. Purchase The Wooing of Malkatoon | Commodus in print or Kindle e-book.
Non-fiction
A Life of Ben. Harrison, Lew's campaign biography of Benjamin Harrison, is also available, with a new introduction written by Charles Hyde, President and CEO of the Benjamin Harrison Presidential Site in Indianapolis. (Also available as a Kindle e-book.)
We issued a special paperback edition of Lew Wallace: An Autobiography, complete with the diagrams and photos that appeared in the original, published shortly after Lew's death in 1905.
More of Lew Wallace's writings are forthcoming.
Shop Movies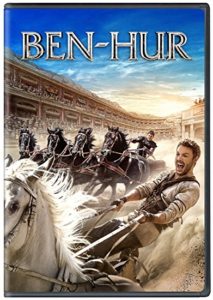 1925 Ben-Hur – Stars Ramon Novarro, Francis X. Bushman (Also available as a digital download or rental.)
1959 Ben-Hur – Stars Charlton Heston, Stephen Boyd – 50th Anniversary DVD
2013 Ben-Hur mini-series – Stars Joseph Morgan, Stephen Campbell Moore
2016 Ben-Hur – Stars Jack Huston, Toby Kebbell
Lew Wallace: Shiloh Soldier | Ben-Hur Bard – Emmy-nominated documentary of Lew Wallace produced by WTIU Bloomington
Shop our Recommended Reading List
The Sword and the Pen: A Life of Lew Wallace by Ray E. Boomhower
One of the best-selling items in our on-site gift shop, Boomhower's biography of Lew Wallace is an excellent general biography. Written for a high-school audience, it is a thoroughly researched and well-written account of Wallace's life.
The Shadow of Shiloh: Major General Lew Wallace in the Civil War by Gail Stephens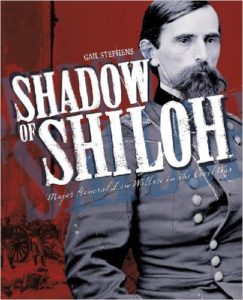 Published in 2010, this won the Civil War Forum of New York City's William Henry Seward Award for best Civil War biography of 2011. Author Gail Stephens volunteered for many years at Monocacy National Battlefield. In 2002, she won the National Park Service's E.W. Peterkin award for her contributions to public understanding of Civil War history. She frequently lectures about Lew Wallace and Civil War history. We highly recommend this book to all Civil War buffs interested in Lew Wallace.
"My Greatest Quarrel With Fortune": Major General Lew Wallace in the West, 1861-1862 by Charles G. Beemer
Wallace Scholar Chuck Beemer's recent study of Lew Wallace's early Civil War career has been nominated for the Midwestern History Association's 2016 Jon Gjerde Prize for the Best Book in Midwestern History. Painstakingly researched and written with an in-depth understanding of Wallace's character, this book is a must-have for Civil War buffs.
Ben-Hur: A Tale of the Christ (Collector's Edition) by Carol Wallace
Lew's great-great-granddaughter Carol Wallace delivers a fresh version of the bestselling novel of the 19th century by updating the language. The Collector's Edition is beautifully annotated with photographs of our collection and Wallace's Study, as well as historical notes pertaining to the novel.
For Younger Readers
Lew Wallace, Boy Writer by Martha E. Schaaf – Volume 3 in the Young Patriots Series
Many Montgomery County fourth graders read this biography before their school field trip to the museum.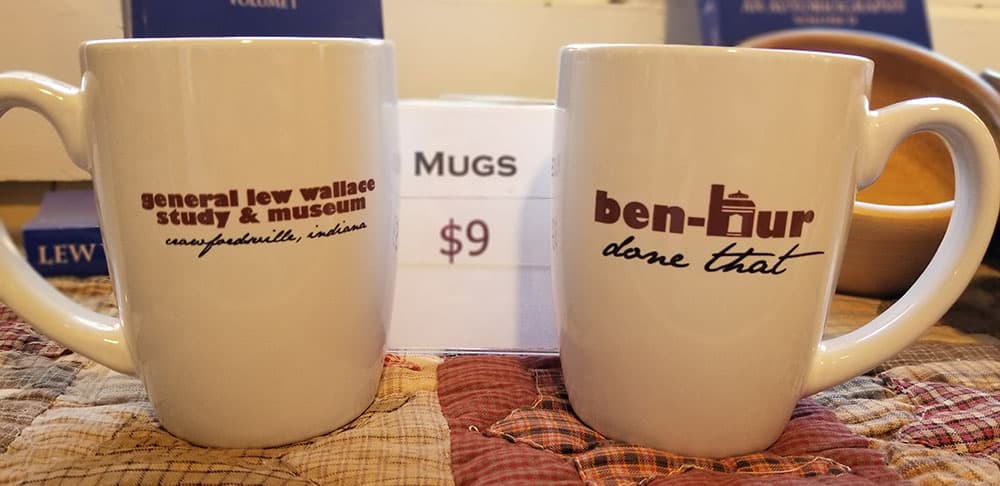 Souvenirs
Our gift shop also has several items designed to be mementos of your visit. Among the items you can purchase are:
postcards
bookmarks
t-shirts
ink pens
umbrellas
collectible pins
a souvenir photo booklet
Christmas tree ornaments
While these are not available for purchase online, you can contact the Study at 765-362-5769 or by emailing [email protected] and we will be happy to ship your order!