We are always looking for ways to provide educational opportunities to people in Montgomery County, Indiana, and the United States. The museum happily hosts field trips for students from elementary to college age. In addition, we continually develop education resources to help educators present Lew Wallace's life to their classes.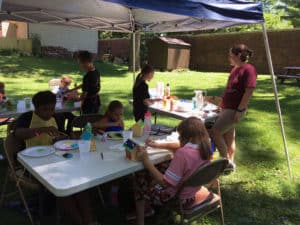 To schedule any of our educational opportunities, email [email protected] or call 765-362-5769 with the date of your request, the number of students, and the topic you prefer. Scholarships are available for students in need. Discovery Kits and classroom presentations are free.
If you have ideas for a resource or program we are not offering, we would love to hear about it!
Lew Wallace Activity Book
Working and schooling at home can make for some trying times. While the General Lew Wallace Study & Museum was closed during the COVID-19 pandemic, Museum staff created a worksheet activity book to provide material for parents and educators.
Online Jigsaw Puzzles including the Study & statue of Lew Wallace, Lew's painting of the Lincoln Conspirators, and The Turkish Princess painting.
Discovery Kits
The Museum has themed Discovery Kits available for checkout to educators. These kits include a binder with a lesson plan, copies of educational materials, activities, and various items related to the theme. Visit the kit page for downloadable lesson plans and activities.
Civil War Discovery Kit – Grades 4-8 – Experience the Civil War through reproduction objects and activities. Students can pack a Civil War haversack with gear, write letters to soldiers, and examine problems that plagued the 11th Indiana Infantry at the Battle of Shiloh.
Lew Wallace, Renaissance Man – Grades 2-9 – Discover this Hoosier Renaissance man as your class explores his careers as an artist, naturalist, ambassador, inventor, and architect. Students can write down observations in a nature notebook, begin writing a best-selling novel, or design their own space for their favorite hobby, just like Lew!
Wallace Women – Grades 4-8 – Introduce your students to two of the most influential Hoosier women: Lew's wife Susan Wallace and his stepmother Zerelda Wallace. Students can act out a skit based on Zerelda's activism for temperance and suffrage. Classes can discover Susan's writings about 19th century women's roles.
Education Programs
Museum staff members are always happy to visit your site and give programs on Lew Wallace's life. We have a number of programs on various topics.
Lew Wallace's Life
The Wallace Women
Lew Wallace's Art
Lew Wallace in the Civil War
If you have a suggestion or request for a presentation on another aspect of Lew Wallace's world, please contact us. We're happy to develop new programs to fit your organization's educational needs.
School Field Trips
The Museum welcomes school classes and home-school groups for tours of our facility. The Museum hosts a variety of different themed tours for school groups, depending on grade level and interest.
Elementary school field trips include "Lew from Long Ago," "Lew the Author," "Lew Around Town," "Lew the Hoosier," and "Lew the Naturalist." Middle school field trips include "Lew the Turkish Diplomat," "Manifest Destiny in the Southwest," and "General Lew Wallace." We also have a high school field trip called "A Pen to Make Men Stop and Listen."
Prices for school tours:
$1 per student
Teachers and adult chaperones from Montgomery County, Indiana, are free
Call 765-362-5769 or email [email protected] to make a school group tour reservation.
The museum grounds are available for picnic lunches; please inform the museum if you plan on eating lunch before or after your tour. Restroom facilities are available behind the Carriage House.
Classroom Presentations
No time for a field trip, but want to learn about Lew Wallace in your classroom? Schedule a free classroom presentation! Classroom presentations also work well as a field trip preview or a discovery kit introduction.
General Lew Wallace – Grades 4 & 8 – Experience the Civil War by handling reproduction Civil War artifacts from our Education Collection and deciding how to lead troops through the infamous Battle of Shiloh.
Lew the Author – Grades 2-5 – Find out how Lew Wallace wrote his best-selling novel Ben-Hur and pen a paragraph inspired by objects from our touchable Education Collection.
Local Lew – Grades 3-5 – What was Lew Wallace doing in Crawfordsville? Your students will get up and move to answer that question with historic photos and objects from the Education Collection
Annual Education Initiatives
ArchiCamp – Every year the General Lew Wallace Study & Museum hosts ArchiCamp in partnership with Indiana Landmarks. This architecture-based camp uses historic architecture to educate and excite children about local history. ArchiCamp instills stewardship and responsibility for our cultural heritage. During the two-day camp, students learn about Crawfordsville's architectural heritage, including the historic Study building. Campers take walking tours and discuss preservation successes in our community. They also learn about architectural terms, do architecture-related crafts, and discover careers in historic preservation.
Further Your Education by Reading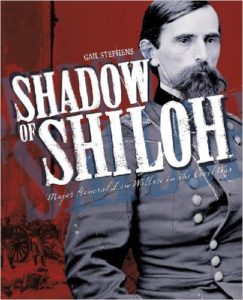 The Sword and the Pen: A Life of Lew Wallace by Ray E. Boomhower
One of the best-selling items in our on-site gift shop, Boomhower's biography of Lew Wallace is an excellent general biography. Written for a high-school audience, it is a thoroughly researched and well-written account of Wallace's life.
The Shadow of Shiloh: Major General Lew Wallace in the Civil War by Gail Stephens
Published in 2010, this won the Civil War Forum of New York City's William Henry Seward Award for best Civil War biography of 2011. For many years, author Gail Stephens volunteered at Monocacy National Battlefield. In 2002, she won the National Park Service's E.W. Peterkin award for her contributions to public understanding of Civil War history. She frequently lectures about Lew Wallace and Civil War history. We highly recommend this book to all Civil War buffs interested in Lew Wallace.
For Younger Readers
Lew Wallace, Boy Writer by Martha E. Schaaf – Volume 3 in the Young Patriots Series
Many Montgomery County fourth graders read this biography before their school field trip to the museum.
Lecture Videos
Many of our past lectures are available to watch online. Visit our Lecture Videos page for a complete listing.