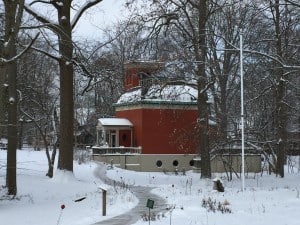 Learn more about the General Lew Wallace Study & Museum here!
200 Wallace Avenue
Crawfordsville, IN 47933
765-362-5769
Mailing Address: PO Box 662, Crawfordsville, IN 47933
GPS (for parking lot): 201 Elston Avenue, Crawfordsville, IN 47933
Hours
The Museum is currently closed until Tuesday, February 2, 2021. Tours are by appointment only with 24 hours notice.
Monday: by appointment only
Tuesday – Friday: 10:00 a.m. – 5:00 p.m. Eastern
No tours begun after 4:15 p.m.
Please allow 1 hour for complete experience.
Admission Fees
Adults – $7
AAA/Military with ID – $5
Students 13 – 18 – $3
Students 7 – 12 – $1
Children 6 & under – free
Book your tour online for your convenience. Museum staff will make every attempt to accommodate walk-ins in a timely fashion, but booked tours will take precedence, in order to maintain proper social distancing.
For more guidance on planning your visit, see our Plan Your Visit page, including information on parking, group tours, accessibility, and more.
Our Contact page has museum staff email addresses and brief bios. Map & Directions will help guide you to and around our site, which can be challenging to find!
We have a Walking Tour of the grounds that you might also find interesting.
You can learn more about the Study building itself.
Photography
Photographs are allowed everywhere on the grounds. Photographs are also allowed inside the Carriage House and Study, but we ask that you not use a flash.
Professional photographers are welcome to use our grounds for photo sessions. Please realize that we lock the gates by 4:45 p.m. and schedule your sessions accordingly. We do ask that no more than one vehicle parks inside our parking lot for photography sessions. Street parking is available on Elston Avenue. We are also very appreciative when professional photographers secure a $25 personal membership in the Lew Wallace Study Preservation Society.
---
Learn more about our board activities and the mission and vision of the Lew Wallace Study Preservation Society and the General Lew Wallace Study & Museum.
Vision Statement
The General Lew Wallace Study & Museum celebrates and renews belief in the power of the individual spirit to affect American history and culture.
Mission Statement
The General Lew Wallace Study & Museum is deeply committed to the protection and preservation of Lew Wallace's legacy now and for generations to come.