General Lew Wallace's study is a separate building that was constructed fifty yards north of his residence in Crawfordsville, Indiana. The study was built between 1895 and 1898 and cost the then-remarkable sum of $30,000.
The building is an eclectic combination of three types of architecture: Romanesque, Byzantine and Periclean Greek. The building is composed of a concrete and steel undercarriage, brick walls, limestone friezes and porches, and a copper roof and cupola.
The inside of the Study was complete with electric and gas lights, a gas fireplace, coal furnace, an on-demand water system, and restroom. The main room contains white oak bookcases on three of the four walls. A frosted and stained glass skylight diffuses natural light into the main room.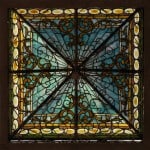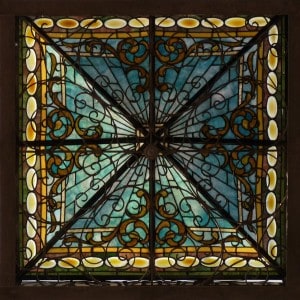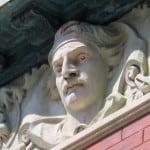 A few other details about the study are important to note. The limestone frieze that wreaths the study contains four faces, one on each side of the building. The faces represent characters from Wallace's novels Ben-Hur and The Prince of India, with the face Wallace approved for Judah Ben-Hur carved over the entrance to the study.
During Wallace's lifetime, he had a moat on the east side of the building. He even had the moat stocked with fish. However, concerns about the building's foundation and safety of the neighborhood children prompted him to fill in the moat during his lifetime.
Today, Wallace's study sits on 3.5 acres, which are entirely enclosed within a brick wall added after Wallace's lifetime. The General Lew Wallace Study is now a museum containing artifacts that chronicle almost every aspect of his varied life. At the same time, the Study grounds (once Wallace's backyard) are an idyllic location for a picnic, stroll, or a relaxing afternoon with a good book.