This event is a major fundraiser for the General Lew Wallace Study & Museum and is hosted at both at the Elston Homestead and the Lane Place. Visitors may attend the holiday event any time between 3:00 and 6:00 p.m.
The impressive Elston Homestead, located on Pike Street, was the childhood home of Susan Elston Wallace. It is now home to Wabash College President Gregory Hess and his wife, Lora. Each year, designers from Milligan's Flowers & Gifts provide elaborate holiday decorations for the Tea.
Elston Homestead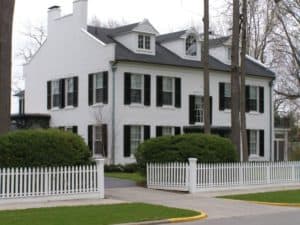 A spotlight feature of the event is an interactive fashion show featuring local models wearing fashions from local boutique heathcliff. The fashion show will begin at 3:30.
In addition, visitors will win door prizes throughout the afternoon. All ticket-holders are automatically entered in the drawing. Attendees need not be present to win. Door prizes will be distributed between 4:00-6:00 p.m.
Refreshments include tea and coffee, served with sweet and savory treats. Special thanks go to Bon Appétit and tea committee members for the preparation and festive presentation of the food and drink.
Another highlight of the afternoon will be live holiday music by the T-Tones, a men's vocal ensemble from Wabash College, back by popular demand.
Lane Place
Located at 212 S. Water Street, Lane Place was the home of Henry and Joanna Lane, Susan Wallace's sister and brother-in-law. The Montgomery County Historical Society and Holiday Tea Committee will decorate this historic home using special holiday collections from community members.
The popular holiday decoration sale will return again this year. Local artists and designers will create unique holiday wreaths and decorations that will be available for purchase during the event. These decorations make great gifts for loved ones, business associates, or clients. All proceeds from the sale go directly to the Lew Wallace Study.
Holiday Tea Tickets
Reservations for the Holiday Tea & Fashion Show cost $25 per person. Please make all reservations by December 4. Ticket sales benefit the General Lew Wallace Study & Museum and Lane Place.
If you are purchasing tickets online, you will have the choice to donate to cover processing fees. If you are purchasing tickets for more than one person, please list the names of each attendee in the field provided.
If you have questions, please contact the General Lew Wallace Study & Museum at 765-362-5769 or e-mail at [email protected].
Holiday Tea Images