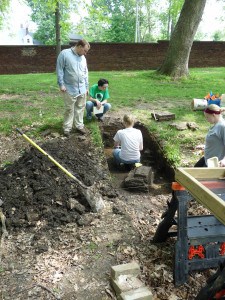 "History Beneath Us" began in 2010 when the Museum teamed up with Crawfordsville native Anne Moore, her husband Dr. Chris Moore, and archaeology students from the University of Indianapolis to excavate portions of the grounds. They have found the western edge of the reflecting pool and discovered that the pool was lined with bricks but does not have a brick or stone base. The approximate depth of the pool is four feet, indicating that Wallace could have used this pool to winter over fish from his moat.
Several artifacts have been found in the fill that was used when the pool was filled in, but none of these can be definitively tied to Lew Wallace because we are not sure where the fill dirt came from. There is also a builder's trench on the outside of the pool wall that contains artifacts that should date to the construction of the pool and therefore, to Lew or the contractor who built the pool. The archaeologists have uncovered ceramics (pieces of plates, bowls and tea cups), glass bottles, metal utensils and containers, nails and brick in these areas.
We eventually exposed the top layer of bricks around the perimeter of the reflecting pool, which led to the 2018 reflecting pool restoration project. There is also a promising area near the Carriage House and southern brick wall where evidence of a possible foundation was found. This area could have been a cistern, privy or an outbuilding.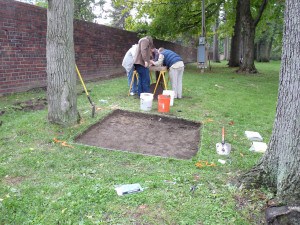 We always encourage public participation during our "History Beneath Us" program. Feel free to grab a shovel or trowel and help dig, scrape dirt, and screen for artifacts alongside the University of Indianapolis excavation crew. Young visitors can try out the Archaeologist in Training area where they can unearth artifacts.
For more information, email Amanda at [email protected] or call the museum at 765-362-5769