"May a man tell what he can do until he tries? That, I take it, is the soul of the Americanism which makes us a peculiar people." –Lew Wallace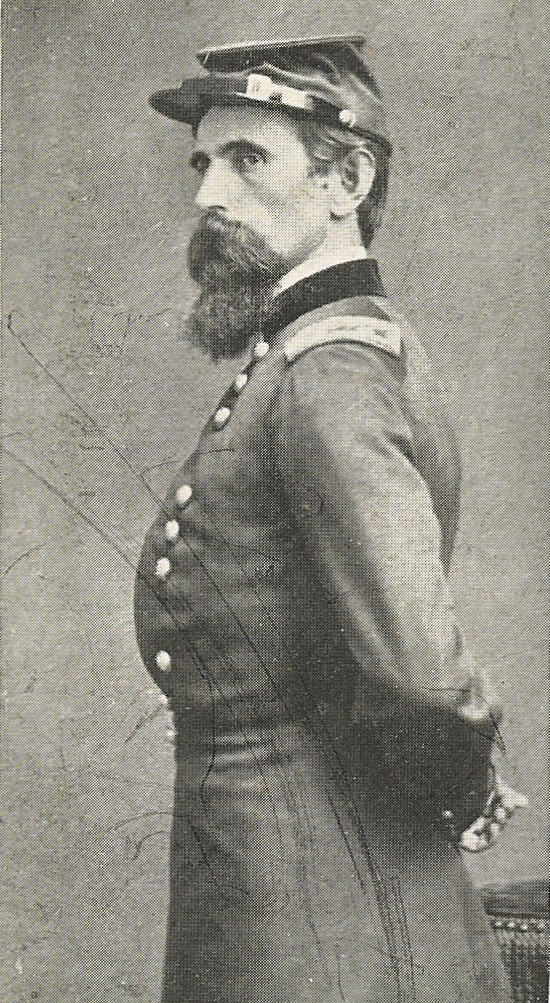 1827 – Lew Wallace is born in Brookville, Indiana, on April 10 to David and Esther Wallace.
1832 – The Wallace family moves to Covington, Indiana.
1833 – Esther Wallace dies of consumption.
1836 – David Wallace marries Zerelda Sanders.
1837 – David Wallace takes office as the 6th Governor of Indiana; family moves to Indianapolis.
1843 – Lew begins working as a copyist for the Marion County Clerk and begins studying the law at night.
1846 – Lew serves as a 2nd Lieutenant of the 1st Indiana Volunteers in Mexican-American War, but sees little action.
1849 – Lew passes the bar exam.
1850 – Lew sets up law practice in Covington, Indiana.
1852 – Lew marries Susan Elston, daughter of Isaac Elston, on May 2.
1853 – Henry Lane Wallace is born in Covington and family moves to Crawfordsville.
1856 – Lew is elected to Indiana State Senate; Lew organizes the Montgomery Guards, a militia unit that gains him statewide notoriety.
1861 – Lew is appointed Adjutant General of Indiana to begin organizing Indiana's soldiers; Lew becomes Colonel of the 11th Indiana Volunteer Infantry.
1862 – Lew promoted to Major General and commands troops in Tennessee battles of Forts Donelson and Henry and Shiloh; Lew organizes a successful defense of Cincinnati, Ohio, in September.
1864 – Lew is appointed Commander of the 8th Army Corps at Baltimore by President Lincoln; Lew leads troops in the Battle of Monocacy, which saves Washington, D.C., from Confederate assault.
1865 – Lew leads secret mission in Mexico to stop flow of goods into the Confederacy; Lew is appointed second in command of the Lincoln assassination trial; Lew is appointed President of the Court for the trial of Henry Wirz, the commander of Andersonville prison.
1866 – Lew returns to Mexico and supplies the Juaristas with arms in their successful attempt to overthrow Maximillian.
1868 – Lew returns to Crawfordsville and builds a two-story Victorian home on land originally owned by Susan's father.
1870 – Lew unsuccessfully runs for Congress.
1873 – Lew's first novel, The Fair God, is published.
1878 – Lew is appointed to serve as Governor of the New Mexico Territory by President Hayes.
1880 – Lew's second novel, Ben-Hur, is published on November 12.
1881 – Lew is appointed United States Minister to Turkey by President Garfield; Lew becomes good friends with Sultan Abdul Hamid II.
1885 – Lew returns to Crawfordsville.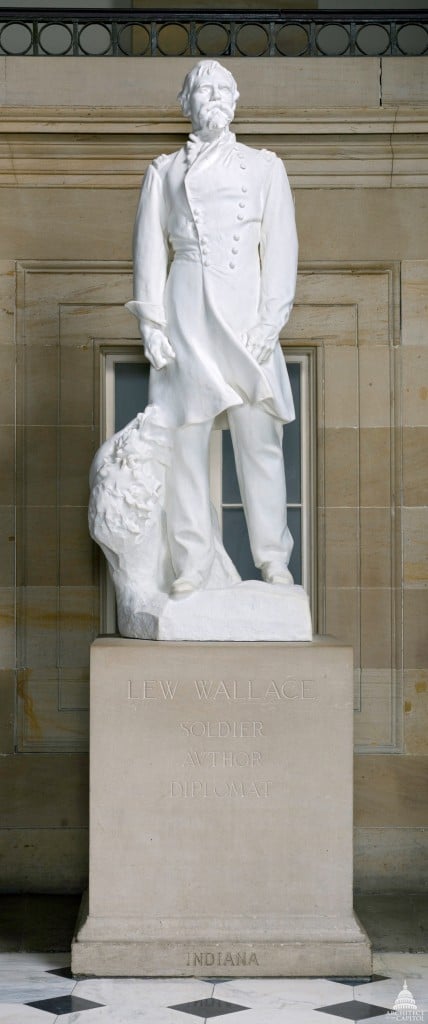 1893 – Lew's third novel, The Prince of India, is published.
1895 – Construction of Lew's study begins in Crawfordsville.
1899 – Ben-Hur adapted into a stage play and opens at the Broadway Theater in New York City.
1905 – Lew dies on February 15 in Crawfordsville.
1906 – Lew's self-titled autobiography published with help from Susan and Mary Hannah Krout.
1907 – Susan dies on October 1 in Crawfordsville.
1910 – A marble statue of Lew placed in Statuary Hall at the United States Capitol Building in Washington; A copy of the statue is placed on the Study grounds in Crawfordsville (image at right courtesy of Architect of the Capitol).
1925 – First full length motion picture of Ben-Hur released, starring Ramon Navarro.
1959 – Re-make of Ben-Hur starring Charlton Heston breaks box office records and garners a record eleven Academy Awards®.
2016 – A third full-length, live-action version of Ben-Hur, starring Jack Huston in the lead role is released in August; Lew's great-great-granddaughter Carol Wallace publishes a modernized version of the novel.