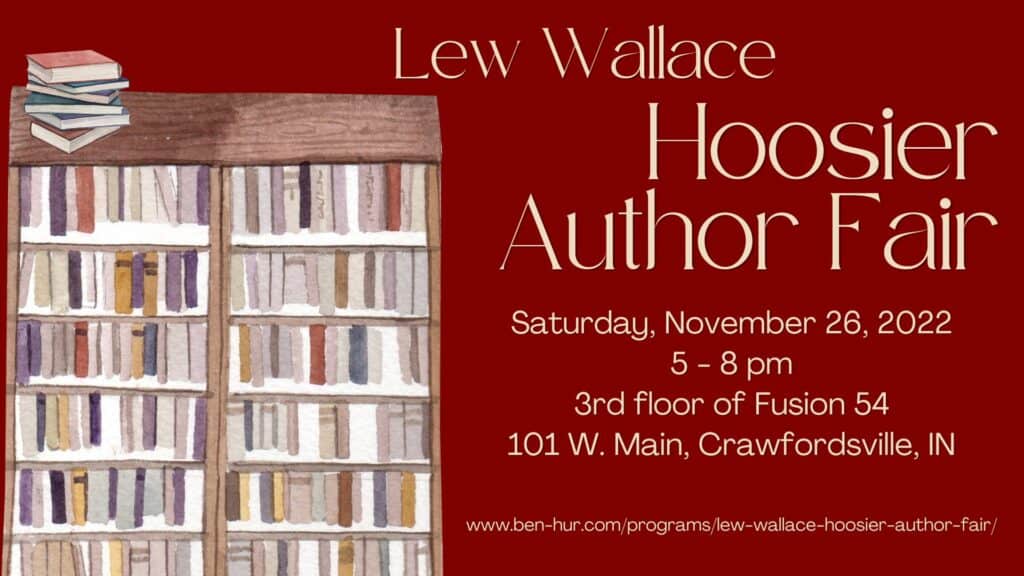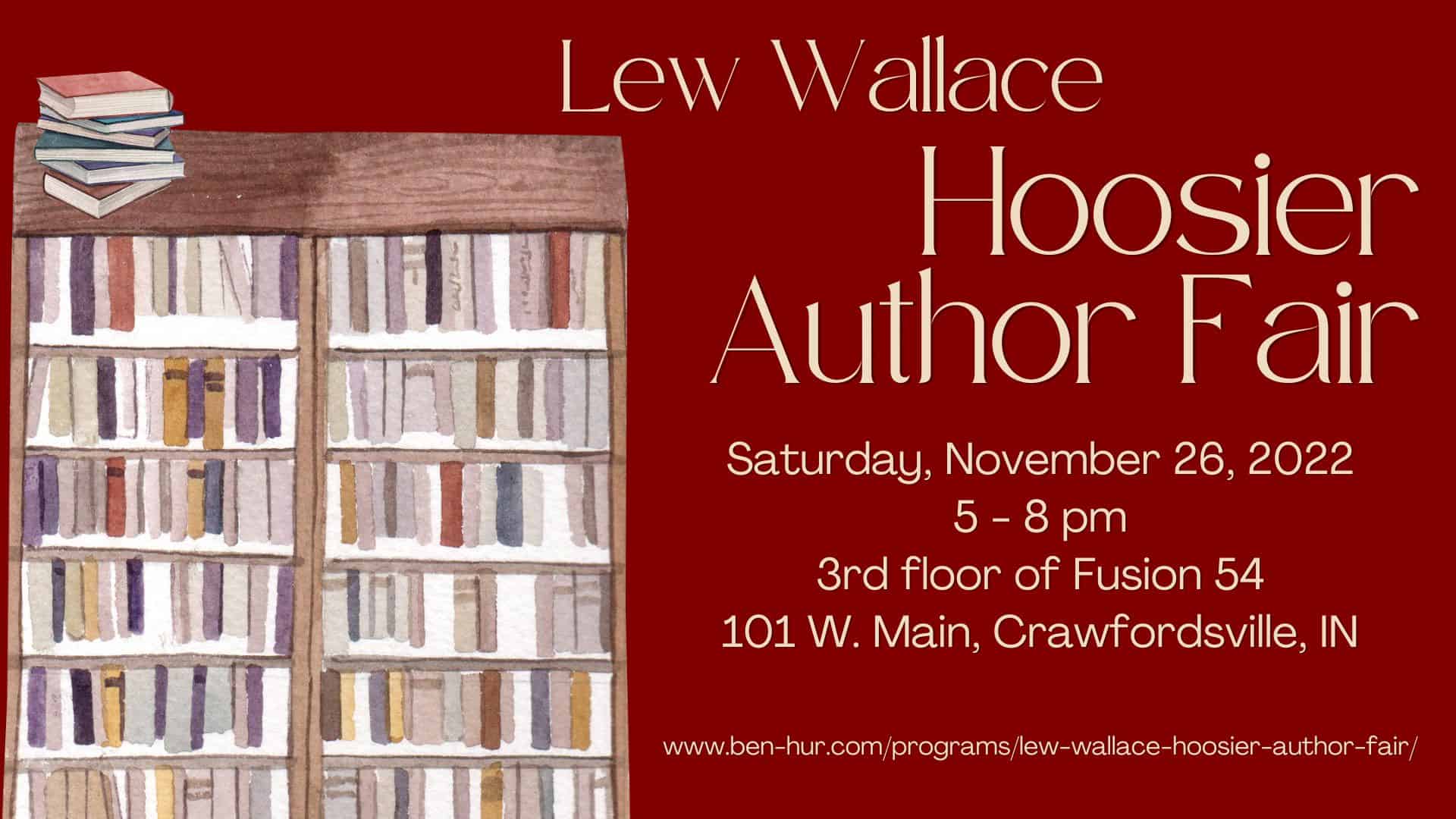 Each year, the General Lew Wallace Study & Museum hosts several regional authors for their annual Lew Wallace Hoosier Author Fair. The event takes place on the third floor of Fusion54 Coworking Space, which is located at 101 W. Main St., Crawfordsville. We are planning the 2022 Hoosier Author Fair for the evening of Saturday, November 26, 2022, from 5 – 8 p.m.
The Hoosier Author Fair is free and open to the public. Authors will have books and book-related merchandise for sale and are happy to sign copies and chat with readers. Attending authors represent several genres of writing.
Attend the Hoosier Author Fair
As an author
Authors should email Stephanie Cain with questions. Completed author applications can be emailed to Stephanie, or mailed to PO Box 662, Crawfordsville, IN 47933.
There is no fee to participate. We provide tables and chairs. Banners are allowed, subject to space availability.
A small parking lot is located west of the Fusion54 building. Street parking is also available. An elevator is located in the lobby.
As a reader
The Hoosier Author Fair moved to Fusion54 (101 W. Main Street) in 2019 as a result of out-growing our meeting space in the Carriage House Interpretive Center of the museum. The Fusion54 location allows for better social distancing, in addition to being more convenient to downtown Crawfordsville.
Each author is responsible for taking payments, so readers should bring cash as well as credit cards.
A small parking lot is located west of the Fusion54 building. Street parking is also available. An elevator is located in the lobby.
---
2022 Authors
The following authors will attend the 2022 Hoosier Author Fair.
Laura VanArendonk Baugh
Laura VanArendonk Baugh is an award-winning writer of speculative fiction, mystery, and non-fiction. Her works have earned numerous accolades, including the Realm Award for Best Fantasy, a semi-finalist spot in SPFBO's Best Fantasy, 3-star (the highest possible) ratings on Tangent's "Recommended Reading" list, and praise from Publishers Weekly. Laura enjoys hiking, geeking, chocolate, and making her imaginary friends fight each other for imaginary reasons. Find her at www.LauraVAB.com.
Julie Bergfors
Julie Bergfors grew up in Crawfordsville, Indiana, down the street from her friend/illustrator, Anne Parks. The two have been friends for over fifty years. Julie loves to write, and Anne loves to paint. They agreed 2020 was the perfect time to put the two together. Julie, a retired first grade teacher, lives in Crawfordsville. Anne, a full-time artist, lives just north in West Lafayette. Snow Night is their first collaboration of many to come.
Josh Brewer
Josh A. Brewer studies part time with Harvard University (DCE) and currently serves as visiting faculty at Purdue University. He has taught writing at Ivy Tech, University of Miami, University of South Carolina, Tennessee State, and Aquinas College. His work appears in Harvard Review, RHINO, Poetry Quarterly, Natural Bridge, Booth, Southeast Review, Yemassee, Poets Against War, a publication of the Modern Languages Association, and Sargasso, as well as other fine venues. He published a book, Writers Resist, with Chatter House Press (2017).
Tony Brewer
Tony Brewer is a poet and audio artist from Bloomington, Indiana. He is executive director of the Spoken Word Stage at the 4th Street Festival and co-producer of the Writers Guild Spoken Word Series. He has published 8 books including Homunculus (Dos Madres Press, 2019), Pity for Sale (Gasconade Press, 2022), and psithurism (Last Lights Press, 2022). Tony has been offering Poetry On Demand at coffeehouses, museums, cemeteries, churches, bars, and art and music festivals for over a decade, and he is a frequent collaborator with experimental music & field recording collective Urban Deer.
Stephanie A. Cain
Montgomery County native Stephanie A. Cain writes epic & urban fantasy novels. She grew up in Indiana, where much of her urban fantasy is set. Stephanie works at a Victorian man-cave and dreams of living somewhere without winter. A proud crazy cat lady, she is happily owned by Strider, Eowyn, and Eustace Clarence Scrubb.
Titles she will have for sale include her Storms in Amethir fantasy series, Sow the Wind, Shades of Circle City, Circle City Psychic, and several anthologies, including Equus and G is for Ghosts. She will also be selling copies of New Richmond, IN: A History of the Greatest Little Town on Earth, by her grandmother, Phyllis Waye Boone, which Stephanie edited and published.
Gretchen Carlson
Gretchen's background in journalism and education fed her heartbeat for writing stories of hope. Her debut novel won the 2018 ACFW Genesis contest in young adult and the First Impressions contest. Growing up she collected stories of hardships and strong friendships from her grandparents, and a true story she kept secret for decades inspired the novel More Than Grit. She is a motivational speaker and loves to interact with book groups and students.
Amie Kunkle Cox
Amie Kunkle Cox is a school librarian, history scholar, writer, and frequent public speaker. She has library science degrees in archives and student media services and a teaching license from Indiana University. She currently serves as the district media specialist for the Crawfordsville Community School Corporation. Besides history and genealogy, she enjoys reading, running, and cycling. She is a five-times great-grandniece of William Bratton and lives in Carmel, Indiana.
Mark R. Frank
Mark Frank is a contemplative who allows the writings of the sages of various traditions to speak to him of meaning beyond words and letters. Raised Christian, he's now a long-term practitioner of Eastern forms of meditation, primarily Zen. He has an undergraduate degree in mathematics and a graduate degree in counseling. He has worked as a teacher, corporate analyst, counselor, and many other things. His wife is a Christian minister. They have lived in Crawfordsville for several years and are enjoying small-town life.
Eric Freeze
Eric Freeze grew up in southern Alberta, Canada, in the shadow of the Canadian Rockies. He studied creative writing and African-American literature in the US, getting a PhD at Ohio University and eventually teaching at Wabash College in Indiana where he is a tenured professor. He writes both fiction and creative nonfiction, and teaches in other genres such as screenwriting and writing for video games.
French Dive: Living More with Less in the South of France is Freeze's second book of creative nonfiction. His first is a collection of essays titled Hemingway on a Bike (2014), another book that also celebrates his experiences living and working in France. He has published two short story collections: Dominant Traits (2012), and Invisible Men (2016). His stories, essays, and translations appear in numerous periodicals including The Southern Review, Boston Review, and Harvard Review.
He is married to academic and birth educator Rixa Freeze and is the father of four bilingual soccer-crazed children. He lives half the year in Crawfordsville, Indiana and the other half in Nice, France.
Glory-June Greiff
Glory-June Greiff is a public historian and preservation activist who has written books and numerous essays and articles that combine art, nature, history, and, of course, wonder. Currently she is working on a books of essays and a history/memoir using her parents' courtship letters during World War II. A native of rural Hudson Lake in northern Indiana, Greiff earned a B.S. in Radio-Television/English from Butler University, worked several years on the air in radio, and later earned a master's degree in Public History from Indiana University. She is also a professional narrator and a performer of song and story. Her books include People, Parks & Perceptions: A History and Appreciation of Indiana State Parks and Remembrance, Faith & Fancy: Outdoor Public Sculpture in Indiana.
Wendy Hill
Wendy Gorton Hill woke to the sound of running water. Following a path of household disarray, she discovered her glassy-eyed, 15-year-old son, in the bathroom, "measuring the sink". Neither her upbringing as a pastor's kid nor her background as a high school English teacher prepared her for her new parental identity. When the words finally poured from her molten heart, she penned Watching the Wayward, her first book of poetry. A 2000 graduate of The Institute of Children's Literature, Wendy writes about reading books and raising boys on her blog at www.ofbooksandboys.blogspot.com. She lives in a farmhouse outside of Indianapolis, Indiana, with her husband, sons, dog…and a yet unmeasured sink.
Ethan Hollander
Ethan Hollander is an associate professor of political science at Wabash College. He is the author of a book on World War II and the Holocaust, and also of "Democracy and Its Alternatives", a 24-lecture series on democracy, tyranny, and political extremism published by Wondrium (formerly known as The Great Courses). The lecture series is available for livestreaming at Wondrium.com; by DVD or electronic download at TheGreatCourses.com; or wherever great audiobooks are sold (Amazon, Audible, etc.).
Shannon Hudson
Shannon Hudson is a science teacher by day, a history buff by night! She fell in love with both subjects in elementary school. Her parents, also scientists and history buffs, encouraged her to learn more about both. When she moved to Crawfordsville, Indiana, in 1990, the late Jan and Don Avery introduced her to the fascinating history of Montgomery County. In one day, they visited Lane Place, the Rotary Jail, the Lew Wallace Study, and the Speed Cabin that stood in Milligan Park. She was hooked! She is married to Doug, also a teacher. They have two grown children, Cari and Tyler, and granddaughter Molly. Now their attention focuses on their rescue dogs. In her spare time, she loves to quilt, read, walk, binge watch history and science programs, teach a science methods class at Ivy Tech in Lafayette, and promote excellent science teaching practices through the National Science Teachers' Association.
Garrett Hutson
A life-long resident of Indiana, Garrett Hutson ties most of his stories to the Hoosier state in one way or another. An avid student of history, Hutson mostly writes upmarket historical fiction, focusing on little-known or ignored settings and characters. Garrett has been writing stories since before he could spell.
Garrett writes about ordinary people in different times and places who struggle with faith, family dysfunction, and all of the moral gray areas of life. Because he writes realistic fiction, his work is always diverse and LGBT-inclusive.
He has four books published so far, with many others in the pipeline. He currently lives in Indianapolis with his husband, three dogs, three cats, a bird, and too many fish to count.
Julie Jones
Julie Jones is an established Reiki Master Holistic Healer and has done remote work both globally and in many parts of the world. She is a singer-songwriter for the band Remote View, where she is one of two guitarists. Julie has worked independently in antebellum and French antiques as well as in photography and design. The Plantation is her first novel. She is currently writing her second novel, to be released within a year.
David J. Marsh
In his 2021 Illumination Award silver medalist debut novel, The Confessions of Adam (Bold Vision Books, 2019), a retelling of the universal and dramatic narrative that opens the book of Genesis, Dave has crafted a richly imagined story of the creation and its aftermath. Dave is also the author of A Conversation on Genesis 2-4 (Bold Vision Books, 2020). His second novel Waterborne: Chronicle of the Clan of Noah is anticipated in Fall 2023. Dave holds a BS in Communications from Grace College and an MFA in Creative Writing from Butler University. Dave has taught at Grace College and facilitates the Westside Writers Workshop. Every other Wednesday he posts a column on the craft of fiction called "Revel and Rant" at DavidJMarsh.com. David lives in Avon, Indiana, with his wife Cyndi.
Tom Pado
Tom Pado will be featuring his book Damn the Pressure, Full Speed Ahead. His many credentials includes military service on a submarine, diving research, engineering projects, and sports. He is the founder and CEO of Total Marine Technology, a company that manufactures subsea robots for the oil and gas industry.
Erin Pickett
Erin Pickett grew up in a small town in Indiana and dreamed of getting away after high school, but instead she went to work in a factory and later became a waitress at a local restaurant while earning her Associate's degree in Office Administration from Indiana Business College. The thrill of exploring new places was once filled by reading until she discovered her passion for writing. Erin is married and has three children, three bonus children, and four bonus grandchildren.
Allen Salter – Sam Reaves/Dominic Martel
Allen Salter was born in Crawfordsville but has lived in the Chicago area for most of his life. He has published 15 novels under the pen names Sam Reaves and Dominic Martel.
M.K. Scott
M.K. Scott is the Morgan and Scott cozy mystery writing team of the Painted Lady Inn Mysteries, the Talking Dog Detective Agency, and the Way Over the Hill Gang series. Morgan pens the tales, while Scott serves as first editor and webmaster. Daughter Sarah handles social media and Jane the lab supervises digging in the garden.
Jody Simms-Burks
Jody is a retired teacher and currently serving as Laypastor at Bethel Presbyterian Church of Shannondale. She and her husband Dave have two daughters, two grandsons, and two great-grandchildren. She resides in Zionsville, Indiana. Jody loves reading, studying the Word of God, and leading Bible studies and women's retreats.
Kelly O'Dell Stanley
Kelly O'Dell Stanley is a graphic designer who writes—or is it a writer who also designs? Either way, she delights in creating books and products related to creativity and faith. As a business owner for she past 30 years, she's done marketing and design work for a variety of industries and clients across the US. In 2013, Kelly won the Writer's Digest Inspirational Writing Contest and began her publishing journey, resulting in four traditionally published books. So far. (The fourth releases in 2023). She has also self-published several journals and calendars. Kelly and her husband Tim live in small-town Indiana and, now that their three children are grown, delight in their two grandsons, who manage to take up most of their free time. You can find her on Facebook, Twitter, and Instagram.
John J. Uskert
John J. Uskert is a USAF veteran, having servied 1968-1972 with overseas assignments to Okinawa and Korea. He earned his B.S. in Pharmacy in 1976 and his J.D. law degree in 1990, both from Samford University in Birmingham, AL. Uskert retired from pharmacy in 2014; he retired from the practice of law in 2018. Uskert was a contract writer for James Publishing, writing family law articles from 2019-2021. Danos: Surviving the Orphanage is his first novel.
---
Why an Author Fair?
The Beginning of the Golden Age
Lew Wallace's Ben-Hur: A Tale of the Christ, published in 1880, is generally credited with initiating the Golden Age of Indiana Literature. Ben-Hur sold more copies than any other printed work in the 19th century with the exception of the Bible.
All in all, the Golden Age lasted into the 1920s and spawned hundreds of titles. Two novels by Hoosier Booth Tarkington won the Pulitzer Prize. Writers like Meredith Nicholson, Gene Stratton-Porter, Maurice Thompson, James Whitcomb Riley, and Lew and Susan Wallace became defining voices of Midwestern culture to the rest of the world.
A Continued Legacy
Although the Golden Age began to wane in the years following World War I, Hoosier writers continued to have an impact in the publishing industry throughout the 20th century with writers like Kurt Vonnegut, Jessamyn West, John Green, and James Alexander Thom.
Today, dozens of authors make Indiana their home. Every Small Business Saturday, as part of Crawfordsville Main Street's Downtown Party Night, we invite some of those authors to sell and sign books and visit with readers.