The Hoosier Authors Book Club began as part of our Indiana State Bicentennial programming for 2016. The Museum's 2016 exhibit discussed the Golden Age of Indiana Literature, which began with the publication of Lew Wallace's Ben-Hur and went on to include prominent novelists such as Crawfordsville native Meredith Nicholson, Gene Stratton-Porter, and others. The program proved to be popular, so it has been extended.Over the years the book club has hosted discussions with some of the authors, including Susan Crandall and Kelsey Timmerman. This will continue in 2020 when author Ray E. Boomhower attends the March discussion of his biography of suffragist May Wright Sewall.
The book club meets in the ADA-accessible Carriage House. Copies of the books are often available for checkout beforehand at the Carriage House. Book club participation is free and open to the public, but space is limited. To RSVP or for more information call 765-362-5769 or email [email protected].
2020 Virtual Book Discussions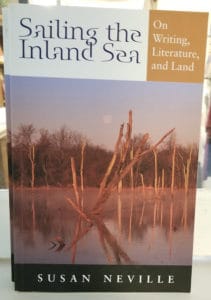 Thursday, October 1, 2020 – 7 pm – Sailing the Inland Sea: On Writing, Literature, and Land by Susan Neville
Neville's book is a collection of essays and articles on Hoosier authors and their relationship with the land. Regulars from our book club will recognize many of the authors Neville discusses–including Scott Russell Sanders, Kurt Vonnegut, Jessamyn West, and others.
Register for the Zoom discussion here
Past Books Discussed
The Magnificent Ambersons – Booth Tarkington
The House of a Thousand Candles – Meredith Nicholson
The Hoosier School-Master – Edward Eggleston
Sister Carrie – Theodore Dreiser
Prince of Graustark – George B. McCutcheon
The Storied Sea – Susan E. Wallace
Alice of Old Vincennes – Maurice Thompson
The Fault in Our Stars – John Green
A Girl of the Limberlost – Gene Stratton-Porter
The Friendly Persuasion – Jessamyn West
God Bless You, Mr. Rosewater – Kurt Vonnegut
On Her Own Ground: The Life and Times of Madam C.J. Walker – A'Lelia Bundles
Ben-Hur: A Tale of the Christ by Lew Wallace
The Massacre at Fall Creek by Jessamyn West
The Flying Circus by Susan Crandall
So Cold the River by Michael Koryta
Dune Boy by Edwin Way Teale
Brave Men by Ernie Pyle
What This River Keeps by Greg Schwipps
Where Am I Wearing? A Global Tour to the Countries, Factories, and People Who Make Our Clothes by Kelsey Timmerman
Staying Put: Making a Home in a Restless World by Scott Russell Sanders
Disclaimer: The Lew Wallace Study Preservation Society participates in the Amazon Affiliate program. Links are affiliate links and generate income for the society at no extra cost to you.