The Hoosier Authors Book Club began as part of our Indiana State Bicentennial programming for 2016. The Museum's 2016 exhibit discussed the Golden Age of Indiana Literature, which began with the publication of Lew Wallace's Ben-Hur and went on to include prominent novelists such as Crawfordsville native Meredith Nicholson, Gene Stratton-Porter, and others. The program proved to be popular, so it has been extended. Over the years the book club has hosted discussions with some of the authors, including Susan Crandall and Kelsey Timmerman. This will continue in 2020 when author Ray E. Boomhower attends the March discussion of his biography of suffragist May Wright Sewall.
Normally, the book club meets in the ADA-accessible Carriage House. In 2020 we have moved to a virtual format on the Zoom platform. Copies of the books are often available for checkout beforehand at the Carriage House. To RSVP or for more information call 765-362-5769 or email [email protected].
2020 Virtual Book Discussions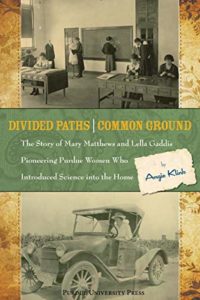 Thursday, November 5, 2020 – 7 pm
–
Divided Paths, Common Ground: The Story of Mary Matthews and Lella Gaddis, Pioneering Purdue Women Who Introduced Science into the Home
by Angie Klink – The author will be joining our Zoom call.
Thursday, December 10, 2020 – 7 pm – A Conservationist Manifesto by Scott Russell Sanders
Register for the December Zoom discussion here
2021 Virtual Book Discussions
Thursday, February 11, 2021 – 7 pm – Invincible, Indiana by Nate Dunlevy
Register for the February 2021 Zoom discussion here
Thursday, March 18, 2021 – 7 pm – Fighting for Equality: A Life of May Wright Sewall by Ray Boomhower – The author will be joining our Zoom call.
Register for the March 2021 Zoom discussion here
Thursday, May 13, 2021 – 7 pm – The Poisonwood Bible by Barbara Kingsolver
Register for the May 2021 Zoom discussion here
Past Books Discussed
Disclaimer: The Lew Wallace Study Preservation Society participates in the Amazon Affiliate program. Links are affiliate links and generate income for the society at no extra cost to you.