GPS and online directions such as Google Maps will direct travelers to the pedestrian gate on the west end of the property if you use our 200 Wallace Avenue address. For ease of GPS directions, please use 271 Elston Avenue as the address. For access to the vehicular gate and parking lot, follow the brick wall around the block to Elston Avenue. Street parking is also available on Elston Avenue. See property map below.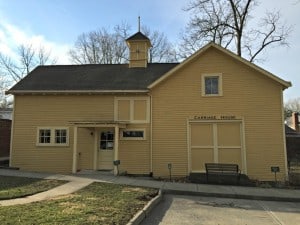 General Lew Wallace Study & Museum
200 Wallace Avenue
Crawfordsville, IN 47933
Tours begin at the Carriage House, a yellow building just inside the brick wall adjacent to the parking lot.
The restroom building is located behind the Carriage House. Both the restroom building and the Carriage House are handicapped accessible.
Below is a map of the property with details about parking and where to start the tour.