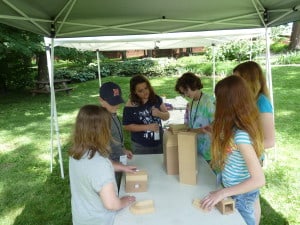 The General Lew Wallace Study & Museum will host ArchiCamp in partnership with Indiana Landmarks. The two-day camp will be held June 21-22, 2016, and is open to students ages 8-12. The camp costs $25 and scholarships are available. Snacks will be provided each day, but campers should bring a sack lunch.
ArchiCamp is an architecture-based camp that uses historic architecture to educate excite children about local history and instills stewardship and responsibility for our cultural heritage. During the two-day camp, students will learn about Crawfordsville's architectural heritage, including the historic Study building. Campers will take walking tours, learn about architectural terms, do architecture-related crafts, learn about careers in historic preservation, and discuss preservation successes in our community.
In order to provide this experience to families for only $25, we rely on donations from organizations, businesses and individuals to sponsor students for $75. If you are interested in sponsoring a local child, or if you would like to register a student for ArchiCamp, please contact Amanda McGuire at amcguire@ben-hur.com or at (765) 362-5769.
Download a PDF of the 2014 Information for parents or the 2016 Registration Form. The schedule for each day has not yet been determined but will be similar to what is in the 2014 Information sheet. The logistical information in that PDF is the same for 2016.
Thank you to our 2016 sponsors (as of May 14): Fraternal Order of Eagles #1005 and Psi Iota Xi – Gamma Xi Chapter.