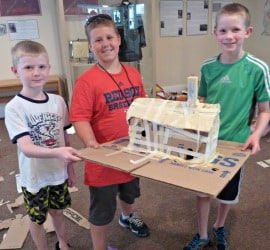 Looking for something for your child to do this summer? The General Lew Wallace Study & Museum will host ArchiCamp in partnership with Indiana Landmarks. The two-day camp will be held June 23-24, 2015, and is open to students ages 8-12. The camp costs $25 and scholarships are available.
ArchiCamp is an architecture-based camp that uses historic architecture to educate and excite children about local history and instills stewardship and responsibility for our cultural heritage.
During the two day camp, students will learn about Crawfordsville's architectural heritage, including the historic Study building. Campers will take walking tours, learn about architectural terms, make miniature stained glass "windows," build local buildings from cardboard boxes, learn about careers in historic preservation, and discuss preservation successes in our community.
Snacks will be provided each day, but campers should bring a sack lunch.
For more information, visit our ArchiCamp page, call the museum at 765-362-5769, or email Amanda McGuire.
This program is made possible by our generous sponsors to date: Montgomery County Retired Teachers Association, Clements Plumbing, Psi Iota Xi- Gamma Xi Chapter, the Fraternal Order of Eagles #1005, INF/BPW – Crawfordsville, Montgomery Lodge No. 50 F&AM, Crawfordsville Kiwanis, and Roberta Berry.