Our popular Hoosier Authors Book Club makes a return Thursday, March 21, at 7 p.m. Readers will discuss Ernie Pyle's World War II book Brave Men.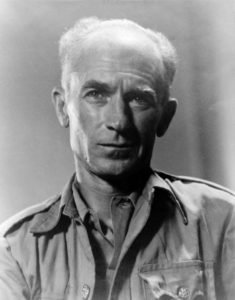 Ernie Pyle
Ernie Pyle was born in the small town of Dana in Vermillion County, Indiana, in 1900. He enlisted in the Naval Reserve during World War I and later studied journalism and economics at Indiana University.
Pyle spent much of 1942 and early 1943 reporting on the North African Campaign, traveling alongside the American infantry. He became a popular correspondent because of his writing style and his focus on the common soldier. He spent 1943 and 1944 reporting on the war in Europe before traveling to the Pacific in 1945. His column would eventually appear in 400 daily newspapers and 300 weekly newspapers. At the age of 44, Pyle was killed by enemy fire during the Battle of Okinawa.
Brave Men
Brave Men, published in 1944, was his third book. It begins with the invasion of Sicily, which began on July 10, 1943. Pyle accompanied the US Navy on a headquarters ship. The book takes readers along as Allied forces retake Sicily and continue on to mainland Italy. Pyle then travels to England and France with the military, writing about daily life on the front lines in World War II Europe. A 1945 movie starring Burgess Meredith, The Story of G.I. Joe, is based on Pyle's reports from North Africa and Italy.
Additional Information
While book club participation is free and open to the public, we do request that participants RSVP, because we have a very small meeting area. Please call 765-362-5769 or email [email protected] to RSVP. You can find a list of future books and discussion dates on our Hoosier Authors Book Club page.
WTIU public television in Bloomington, Indiana, is planning a documentary on Ernie Pyle. They are currently in the crowdfunding stage of the project. You can learn more at their project website.