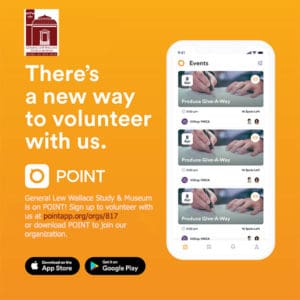 Beginning in 2022, potential volunteers will have a new way to connect with us! Thanks to support from the Montgomery County Leadership Academy, we are now discoverable on the Pointapp.
If you have a Point profile for other volunteer efforts, you can connect with our profile to learn about specific opportunities!
This is an ideal way for volunteers to see current opportunities for volunteering on an as-needed basis.
If you prefer to guide Museum tours as a volunteer, please download the volunteer application at our Join and Support page. If you have questions about volunteering, feel free to contact the Museum at 765-362-5769.
Although only one event (Park Day) is listed, keep an eye on the app for more opportunities! Bookmark our profile now!
Volunteering looks great on resumes. It's also a good way to stay social and active after retirement. Volunteers of all ages and backgrounds are welcome! You just need a positive outlook, an interest in history, and a desire to help! Other reasons for volunteering include wanting to make a difference, meeting new people, or learning more about your community.
Past volunteers have included everyone from college students to retired educators. There are opportunities to work in the gardens with Grounds Manager Deb King. We also welcome help with our gift shop. You can also help out by assisting with office duties such as mailings, folding brochures, and other tasks.