Welcome to the grounds of the General Lew Wallace Study & Museum!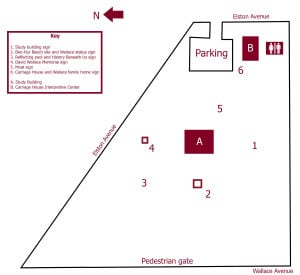 Click the grounds map to the right to download a printable PDF of our walking tour brochure.
Lew Wallace's Study is located in the Elston Grove Historic District. The district, originally consisting of 40 acres, was settled by Major Isaac Compton Elston. Elston was Lew Wallace's father-in law and one of the wealthiest men in Crawfordsville. Elston acquired the land on the eastern edge of Crawfordsville in 1824 and settled there with his wife Maria and their nine children.
Major Elston played a vital role in bringing the railroad to Crawfordsville. The town's first railroad crossed the northeast part of Elston Grove. After 1860, Elston Grove was parceled out for the Elston children to build their own homes.
After Major Elston's death in 1867, a large parcel of land on the eastern edge of the grove became a semi-public park. Lew and Susan built their home in 1868.
The current Study grounds cover three and one-half acres of that semi-public park section of Elston Grove.
The property is set apart from the neighboring residential area by a brick wall that was built by order of Wallace's son, Henry. The brick wall ranges from six to ten feet in height. Within the walls is a park-like setting with rolling grounds and a ravine on the west side.
Wallace had an arboretum on the grounds and enjoyed sitting and writing under his favorite tree, which was later named the Ben-Hur Beech.
Click the links below for more stops along the walking tour.
The Study grounds are also home to a hidden geocache. If you are a geocacher, make sure you check it out!