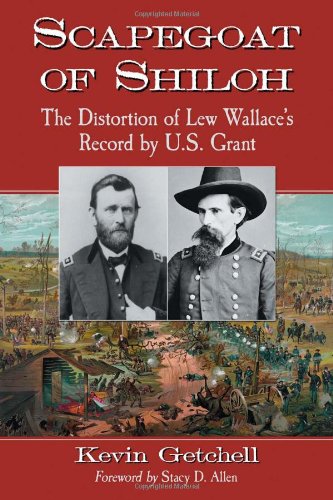 The General Lew Wallace Study & Museum will continue its Civil War lecture series this Thursday, April 24, at 7:00 p.m. in the Carriage House Interpretive Center at the Museum.
Author Keven Getchell of Rio Rancho, New Mexico, will speak about his book, Scapegoat of Shiloh, and discuss his five years of research after the discovery of unique and important documents related to the Lew Wallace at Shiloh controversy. Along with a multimedia presentation, he will also display artifacts related to his topic. Copies of Scapegoat of Shiloh will be available for signing.
Scapegoat of Shiloh: Publisher's Description
A great controversy surrounds General Lew Wallace at the Battle of Shiloh. General U.S. Grant blamed Wallace for the huge number of casualties the Union suffered, citing a dilatory march and poor choice of route to the battlefield. Wallace was obsessed with these accusations his entire life and wrote Ben-Hur as much to work through the injustice of being labeled a scapegoat as for literary aspirations.
This book asserts that something entirely different may be at fault for the astonishing number of men lost. Overlooked in the history of the battle is Grant's own choice of a specific man to carry battle orders to Wallace, a mistake that might have made all the difference. This assertion is supported by newly discovered documents written by an obscure Wisconsin quartermaster as well as evidence in official records. The implications of this choice of messenger virtually vindicate Wallace. By also juxtaposing certain Confederate actions, this book explores the behind-the-scenes struggle during the Battle of Shiloh and its aftermath for the participants. (from McFarland website)
The lecture is free but space is limited so please RSVP by calling the Museum at 765-362-5769 or emailing us through our Contact Page. If you are unable to attend but would like to follow us on Twitter, we will be live-Tweeting the lecture with the hashtag #CivilWarLecture.