Our seventh lecture of the year will be on Thursday, October 23, with S. Chandler Lighty, Historical Digital Newspapers Program Manager and Digital Initiatives Consultant at the Indiana State Library. Lighty will deliver a lecture entitled "Crowded with Perplexities: Lew Wallace and Civil Liberties in Baltimore."
Civil Liberties in Baltimore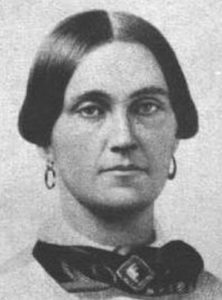 Lighty will discuss some often overlooked aspects of Wallace's tenure in command of the Eighth Army Corps in Baltimore, including court-martial cases and arrests Wallace approved. Lighty will also discuss Wallace's involvement with the arrests of civilians engaged in clandestine activities. Wallace also shut down newspapers for printing disloyal sentiments. These experiences may have influenced Wallace's decision to convict Mary Surratt as one of Lincoln's assassins.
The lecture begins at 7 p.m. in the Carriage House Interpretive Center. This lecture is free and open to the public, but space is limited. Please call the General Lew Wallace Study & Museum at 765-362-5769 or email [email protected] to register.
Exhibit Information
This is also the last opportunity to see a set of slave chains currently on display in the annual exhibit. Wallace removed these chains from a slave in Maryland after emancipation. The chains are on loan from Oberlin College and will be sent to Monocacy National Battlefield on October 24 for display during their celebration of Emancipation Day.
One additional Civil War Lecture is planned in partnership with Wabash College on November 6 and will discuss Civil War relief work. This lecture series is made possible through a grant from the Indiana Humanities Council in cooperation with the National Endowment for the Humanities.