Helping with the care and maintenance of the grounds of the Lew Wallace property by incoming freshmen at Wabash College is not a recent phenomenon. These young men have been helping the museum for years and actually helped General and Mrs. Wallace in the late nineteenth and early twentieth centuries.
Harry Wann
One of the young Wabash men who worked for the Wallaces was Harry Wann. In September 1904, Harry was a seventeen-year-old freshman at Wabash. His older brother had attended Wabash and worked for General and Mrs. Wallace at different times. Harry needed money to support his education. He walked over to the Wallace home and introduced himself, requesting an opportunity to work for Mrs. Wallace.
Some weeks after his meeting with Mrs. Wallace, she sent him a note asking for assistance. Susan requested Harry bring all the students he could find to help rake leaves. Wann recalled the challenge of keeping the spacious grounds neat and free of leaves. Mrs. Wallace quickly came to depend on Harry for help and he was frequently at the home doing odd jobs.
Lew and Harry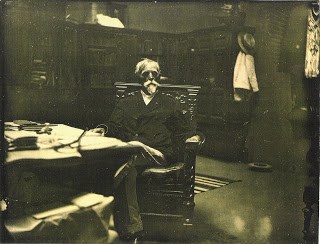 By the fall of 1904, General Wallace's health was declining. Lew often sat outdoors between the house and the Study to enjoy the fresh fall air. Ever curious, Wallace would question Harry about his college studies, his ambitions, and even his eating habits! Harry tended to skip breakfast to save money. Lew grew concerned, telling Harry that breakfast was a very important meal.
Although weak in body, Wallace continued strong in mind. He hired Harry to work in the Study. Lew grew tired moving about the Study pulling the books he needed from the shelves. To keep up with his research, he had the young man pull the desired volumes from the book shelves and bring them to the center desk.
As the autumn of 1904 turned cooler, Harry was hired to fire the furnaces in both the Wallace home and the Study. He also performed this same service for Susan's brother Isaac, who lived just up the street. In addition, Harry worked for Colonel Thompson, who also lived nearby. Each evening, Harry would stoke the furnaces. The next morning at 5:30, he made the same round to prepare the furnaces for the day.
Dictation Duties
When Harry was working at the Wallace home, the General would share stories of his experiences as Minister to Turkey as well as other episodes from a crowded life. Wallace's health declined during the winter of 1904 and early in 1905 he took to his bed. Several times he sent for Harry to come to his bedroom to take dictation which Harry would write out in long-hand for the General to sign. Harry would post the letters the next morning.
On January 25, 1905 the General called for Harry to take dictation. The General dictated one letter regarding a typewriter he intended to purchase and a second letter to a nursery which included a list of plants and seeds for the spring planting. Harry completed the letters and prepared to leave. As he reached the front door, Mrs. Wallace detained him and asked Harry to refrain from sending the letter with the plant list as there was doubt as to her husband's ability to garden come the spring. Harry headed back to Wabash College and laid the letter aside. He continued to come each evening and early each morning to tend the furnace, but he never saw the General again. Wallace's health declined rapidly and he died on February 15.
After Lew's Death
After the General's passing, Mrs. Wallace closed the house and she moved to Indianapolis for a time. A few months later, Harry received a note from Mrs. Wallace requesting him to retrieve her door key from Miss Millen (who was staying at Colonel Thompson's home). In the note, Mrs. Wallace asked Harry to go to the Wallace house, and get two things for her. From the lowest drawer of her desk in the small (east) room, downstairs she wanted a manuscript of a play based on the Prince of India and then on the mantel was a letter from a friend. She asked Harry to add some Ben-Hur postcards from a local store; bundle it all together and send the package to her in Indianapolis via American Express.
As Harry wrote: "Needless to say, I was proud as a peacock, as a boy of seventeen, to be privileged to enter alone the privacy of the Wallace home to obtain, wrap and send to Mrs. Wallace the original MS. of the play "Prince of India."
Harry Wann: A Lifetime of Accomplishment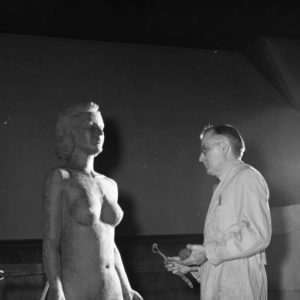 Harry Wann graduated from Wabash in 1908, taught German at Wabash for one year and then, perhaps remembering Wallace's stories of the Middle East, he moved to Constantinople where he taught for three years. Wann returned to Wabash briefly in 1911 before moving on to teach at the University of Michigan. He pursued his doctorate and in 1917 was appointed head of the Romance Language Department at Indiana State University. Like Wallace, Harry Wann loved to learn. He participated in Community Theater, enjoyed singing in local choirs, and became a student once again when he enrolled at the Herron Art School in Indianapolis to learn the art of sculpting. As a sculptor he received a number of commissions.
In his 80s, as Wann reflected on his life and recorded his memories he continued to treasure the few months he worked for General and Mrs. Wallace. After a lifetime of accomplishment one of his prized possessions was the letter that was dictated to him and signed by General Lew Wallace on January 25, 1904 but never mailed.