Today is Flag Day–the anniversary of the day in 1777 that the Second Continental Congress adopted the United States Flag. It is also celebrated as the birthday of the United States Army, though according to Wikipedia, the Army is actually two years older than the flag.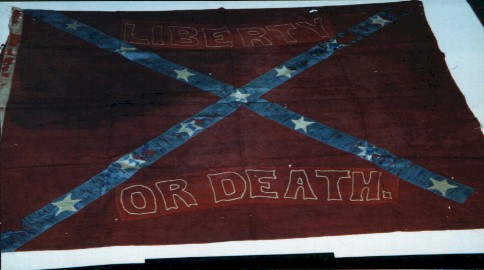 Rather than talking about the US Flag, today I'm going to talk about a Confederate flag–one particular Confederate flag. Company F of the 17th Virginia Cavalry carried this flag, which was captured by Union Colonel Clendenin at the Battle of Monocacy.
Company F formed in September of 1862 in counties that now belong to West Virginia. Though West Virginia became a Union state, the members of Company F were dedicated Rebels. According to the West Virginia Reenactors Association website, many members of Company F even neglected to take the oath of allegiance administered to Confederates after the end of the war.
The Story of a Flag
Colonel Clendenin, Lew Wallace's subordinate, gave the flag to Lew. In his
autobiography
, Lew details how the flag came to be in his possession:
One Confederate officer sat his horse in the middle of the street. He was the first to see the coming storm [of the Battle of Monocacy]. A bugle at his signal sounded the assembly, and snatching a flag from a man near by, the officer waved it shouting lustily. The rush to the banner was general, but formation was impossible. There was not time. Into the paralyzed mob the Federals burst, knocking out riders and men afoot, overturning horse, yelling like mad, and cleaving with vengeful fury. [Union Colonel] Clendenin spurred towards the gallant fellow with the flag. A pistol-ball outflew [sic] him. His opponent reeled in the saddle, and the flag-staff in his dying hand fell forward, its point lodging in the flank of a horse. A moment after he mustered his length in the dust; in another moment Clendenin, regardless of the press, dismounted and secured the trophy.
…A few days after the battle Colonel Clendenin brought the flag to me. I declined it, saying he had won it in combat against odds, and that he must keep it. He persisted, on the ground that as I had made the fight in the first instance, the trophies belonged to me of right, and that I must take and keep it as a lasting souvenir from him.
The Flag's Story Continues
Lew brought the flag home and hung it in his Study, where he described it as an flash of electric crimson that caught the eye. Unfortunately, the flag's fabric deteriorated over time. The General Lew Wallace Study & Museum loaned the flag to Monocacy National Battlefield for restoration before their 140th anniversary. The National Park Service displays the flag in a specially designed case at the Monocacy Battlefield Visitor Center.