We are very excited to announce the completion of a conservation project at the museum! This project improved care of the historic Wallace book collection and 5 selected framed works of art.
2019 Conservation Grant
In April of 2019 we received a grant funded by the Indiana Historical Society and made possible by the Lilly Endowment, Inc. We used the results of an art assessment completed under an earlier grant to select 5 framed works of art for conservation. This artwork has been displayed in the Study almost continuously since the late 1890s. We also targeted the preparation of tailored book boxes for fragile and damaged volumes.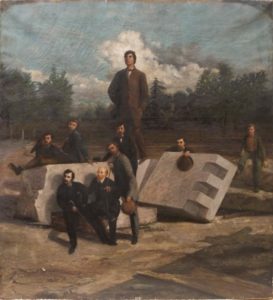 The framed artwork conserved includes Wallace's Military Escutcheon and a watercolor of Wallace during the Civil War. Conservators also restored a photo of Wallace in his Study, a Middle Eastern painting, and an 1880s lithograph of Wallace.
2017 Heritage Support Grant
The museum also received a Heritage Support Grant in 2017 that was provided by the Indiana Historical Society and made possible by the Lilly Endowment, Inc. That Heritage Support Grant allowed for restoration of the two largest paintings in the collection—The Turkish Princess and The Conspirators.
The Turkish Princess was a gift to Lew Wallace from Sultan Abdul Hamid II of the Ottoman Empire. The princess appears to be watching visitors as they move around the Study interior. In his largest painting, The Conspirators, Lew Wallace depicted the men who conspired to assassinate Abraham Lincoln. These men, including John Wilkes Booth and Lewis Payne, also planned to attack other members of the cabinet in 1865.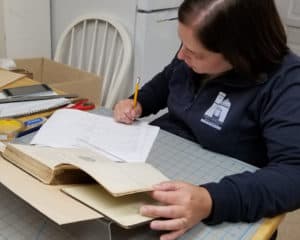 Using the results of the earlier assessment, we also selected 7 paintings and several frames to be restored with a grant from the Montgomery County Community Foundation (MCCF) in 2017. Two paintings by Lew Wallace, Love Triumphant and Cows in the Stream, received conservation thanks to MCCF.
For each of these grant projects, museum staff selected these works of art because of structural issues and active deterioration. Art and frame conservators cleaned the items, repaired damage, and fully restored them. Thanks to the conservators, these iconic works can now continue safely on display in the Wallace Study. These items were extraordinarily significant to Lew Wallace and it is important for the mission of the museum to protect and preserve these parts of the Wallace collection.