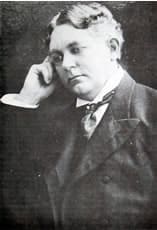 Recently I had two literary guests visiting the Study who asked about Charles Major of Shelbyville, Indiana. I didn't recognize the name at first, though I should have–Major is remembered now for having written
The Bears of Blue River
, but he was a celebrated author in his day. His book
When Knighthood Was in Flower
, published in 1899, was a bestseller and was adapted on Broadway and in film.
Lew made a habit of encouraging young and struggling authors in Indiana. He knew most of those who are today remembered as Indiana's greats–James Whitcomb Riley, Booth Tarkington, George Ade, and many others. But he also had an influence on Charles Major.
They met shortly before Major's first novel was published, and after the meeting, Major wrote a letter to Lew. He confessed that, many years earlier, he had traveled to Crawfordsville in the hopes of meeting the famous author…but then lost his nerve and went back home! It made their meeting in 1898 even more important to Major.
I wish I had known all this before my visitors asked. Hopefully by sharing it on the blog, I'll be able to reach those who asked as well as all our regular readers.