For Presidents Day, we thought we would talk about some of the US Presidents Lew knew during his life. Former curator Joann Spragg was once asked about the Presidents that General Wallace knew—beginning with William Henry Harrison and Zachary Taylor, she began listing them. Wallace probably knew (and had opinions about) all 11 presidents from Abraham Lincoln through Teddy Roosevelt. He may also have known Presidents James Buchanan and William Howard Taft (prior to his presidency). Here are a few of the highlights we know about:
William Henry Harrison – The Wallace and Harrison families had a long-standing friendship. When Lew was a boy of 13, he ran away from home to attend an 1840 rally for William Henry Harrison in Tippecanoe County. Twenty thousand Whig supporters and delegates converged on the tiny community a few miles north of Lafayette. With his father away on business, Lew decided to join this parade—without letting his stepmother Zerelda or anyone else know—as it headed north. Fortunately, one of Lew's uncles saw him on the road and got word back to the family. Lew stayed at the rally for two weeks.
Abraham Lincoln – Lew first encountered Lincoln in the early 1850s, and Lew wrote of that encounter, "Altogether I thought him the gauntest, quaintest, and most positively ugly man who had ever attracted me enough to call for study. Still, when he was in speech, my eyes did not quit his face." Lew's brother-in-law, Senator Henry S. Lane, was one of the men responsible for nominating Lincoln for president at the Republican National Convention in Chicago. Throughout the war, Lew had a connection with Lincoln through Lane. It was Lincoln who appointed Lew to the Middle Department in Maryland in 1864. Lew called on him to express his gratitude, and later wrote, "Time and care had told upon him. His face was thinner and more worn, and I thought the stoop he had brought with him from his home in Illinois more decided. Nevertheless, the smile with which he spoke and the certain indefinable cheeriness in his clear voice were winsome more than ever…."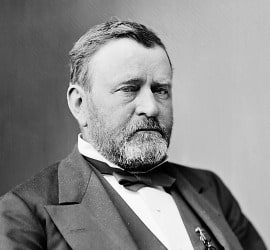 Ulysses S. Grant – Grant was Lew's commanding officer during the Civil War.
Rutherford B. Hayes – In 1876, Lew traveled through portions of the South extolling the virtues Republican candidate Rutherford B. Hayes of Ohio. The election results were hotly contested, as Democrat Samuel Tilden won the popular vote, but not the electoral vote. Lew was sent to Florida to sort out the issue in that state, and later wrote back to his wife that, while he believed that Hayes carried the State, he would not be "a party to any intentional wrong" and "if the results show Tilden entitled to the state I shall say so." Hayes did win, and in 1878, the grateful president offered Lew the diplomatic position of minister resident and consul general to Bolivia—a position that today would be called an ambassadorship. Lew ultimately declined the position. Some weeks later Hayes appointed him Governor of New Mexico Territory.
James A. Garfield – Garfield came to know Wallace during the Civil War, through Republican Party politics, and was so impressed when he read Ben-Hur that he appointed Lew to be Minister to the Ottoman Empire.
Benjamin Harrison – A lifelong family friend, Lew penned Harrison's official campaign biography. After the election, Lew invited Harrison to relax on his houseboat, The Thing, on the Kankakee River in northern Indiana. Their friendship lasted until Harrison's death in 1901. Lew participated in Harrison's funeral as an honorary pall-bearer in a service that included James Whitcomb Riley, Booth Tarkington, President McKinley, and a host of the most influential men of the turn of the twentieth century.
William McKinley – Lew knew William McKinley through Civil War service and Republican Party politics. In fact, Lew had been booked to be a guest speaker at the Pan American Exposition in Buffalo, New York, in 1901 where McKinley was assassinated.
Happy Presidents Day!