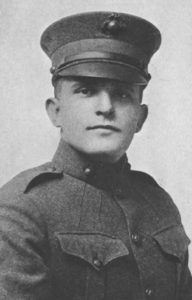 This bit of Wallace family history is in honor of Veterans Day. Lew and Susan Wallace had one son, Henry. Henry and his wife, Margaret Noble Wallace, had two sons. They named their eldest Lew Jr. and their second son William Noble Wallace. Both grandsons would have made their grandfather proud with their service during World War I. Lew Wallace was a hero in the Civil War. His grandson William should also be remembered for his valiant service.
William Noble Wallace
Nicknamed "Tee," William Noble Wallace was born in 1895 and attended Indianapolis Public Schools. A handsome and dynamic young man, he had a stronger scholastic aptitude than his famous grandfather as he ultimately graduated from The Hill School, an exclusive preparatory school in Pennsylvania. He then enrolled in and graduated from Yale where he was a member of Hill School Club at Yale; the University Club, the university wrestling team; the Sword & Gun Club, Delta Kappa Epsilon and the Elihu Club.
A young man with spirit and drive, he left Yale without graduating in 1916 to enlist in the American Field Ambulance Service with the French Army. He did this even though the United States had not yet entered the war. Serving as an ambulance driver for six months his unit received 3 citations, including the French Croix-de-Guerre with palm and the Fourragere for Souville-Tavanne. In December of 1916, he returned to Yale and finished his senior year, graduating in June of 1917. In July, he reenlisted as a second lieutenant in the Marine Corps. He completed his training, and in February of 1918 he sailed to France. In two different training classes, he graduated at the top of his class, again demonstrating a classroom aptitude foreign to his grandfather.
Service in 1918
In June 1918, Tee's command moved to Chateau Thierry. In the attack at Belleau Woods he led his platoon over the top of a hill in fighting as fierce as any Lew witnessed in the Civil War. Just a few weeks later in July, Tee took his platoon forward. A piece of high explosive hit Tee about noon as he led his men in the attack on Vierzy—the preliminary advance on Soissons. His regiment was cited by the French for this action and his company was awarded Croix-de-Guerre with Palm. Tee was evacuated to Base Hospital No. 43, where he recovered.
By September, Tee had been promoted to first lieutenant. However, communications at the front being what they were, he never knew it! Memorial Sketches in Yale in the World War says he actually received this rank July 1 and the next day made provisional captain. In October, he rejoined his command for the Meuse-Argonne offensive. He was appointed Battalion Scout Officer. His company withdrew for replacement, but he remained because of his sketching ability (perhaps an artistic trait inherited from Lew).
William volunteered to map enemy positions on the front line with one other comrade. He accomplished his mission with great skill and daring. As he returned across open country to HQ on Blanc Mont ridge in the early dawn, a shell struck him and killed him instantly. His partner survived. That night, with the aid of the regimental chaplain, his men and a brother officer buried William at the side of the road between Somme-Py and St. Etienne.
World War I ended just weeks later.
Medals and Memorialization
For his service, Tee posthumously received the American Field Service Medal with letter from the French Ministry of War. His friends awarded a trophy in his memory at a track meet held by the Second Division Post, American Legion, in New York City. He received the Distinguished Service Cross for extraordinary heroism. In addition, he was given the Navy Cross. After the War, Henry travelled to France and reclaimed his son's body. He buried William Noble Wallace in Oak Hill Cemetery with the rest of his family.
A fellow officer wrote about Tee's mission. In his last battle, his company lost 132 men in twenty minutes. They retired for replacement. But Lt. Wallace, "owing to his indifference to high explosive shell fire and skill in sketching, was ordered to remain and sketch the ground in advance. He had accomplished this special mission and was returning to deliver his map when struck by a shell. No nobler life has been laid on the altar of Liberty."