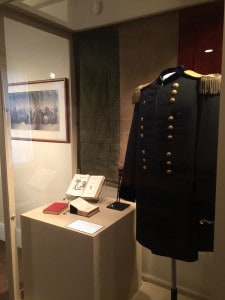 The General Lew Wallace Study & Museum 2015 exhibit, "Trials and Tribulations: Lew Wallace in 1865," is now open! This exhibit discusses the actions of Lew Wallace in the final year of the American Civil War.
Trials and Tribulations
In 1865, Lew served on two important trials—that of the Lincoln Conspirators and the war crimes trial of Henry Wirz, commandant of Andersonville Prison. Wirz was the first person to be executed for war crimes after the Civil War. Wallace also spent several months of 1865 traveling, first attempting to negotiate a Confederate surrender in Texas and then raising support for the Juaristas in Mexico as they fought the European-installed dictator Maximilian.
"This year we are displaying items on loan from the Indiana Historical Society, Lane Place, and the Wabash College Ramsey Archives, as well as items from our own collection," said Associate Director Amanda McGuire. "This is a unique opportunity for people to view some of Wallace's original sketches."
Museum Information
The General Lew Wallace Study & Museum is currently open Tuesday through Friday from 10 am to 5 pm. Beginning March 28, the Museum will also be open Saturdays from 10 am to 5 pm. The Study interior is closed to tours through March due to electrical restoration work, but the exhibit and grounds are open to the public. The "Trials and Tribulations" exhibit will run through early December. For additional information, please call 765-362-5769 or email [email protected].