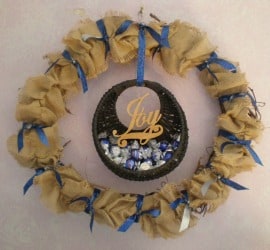 Our Holiday Tea and Fashion Show is fast approaching–Thanksgiving is just around the corner, and the next week is the Holiday Tea!
I want to give you all a sneak peek of some of the beautiful wreaths we are going to have for sale at the popular "Making Spirits Bright" Holiday wreath sale. Local artists and designers are creating unique holiday wreaths that will be available for purchase beginning at 4:00. These wreaths make great gifts for loved ones, business associates, or clients. All proceeds from wreath sales go directly to the Lew Wallace Study.
The selection of wreaths is sure to please any taste. Several wreaths feature bulb ornaments, snowmen, pinecones, snowflakes, and ribbons and bows. One wreath features hand-knit gingerbread men with cookie cutters.  There is also a unique wreath with southwestern flair that reflects Lew Wallace's time as the Governor of the New Mexico Territory.
Special thanks go to the wreath designers for their generous donations of time and talents: Jackie Apple/Country Hearts & Flowers, Laura Conners, Lora Craft-Whiles, Kara Edie, Wendy Feller/Silver Valley Farm, Jill Ferguson & Stacey Paddock/Rustic Owl Primitives, Bettye Hudson, Kathleen Norton, Stefani Rossi, Judith Lynn Smith and Robyn Zahn-Thompson.
Don't forget, you can make your reservations by calling us or visiting the Holiday Tea page and using the Paypal reservation form. Reservations are $25 per person and due by December 4.