The 2019 exhibit "From Crawfordsville to Constantinople: Traveling with the Wallaces" opens at 10 a.m. on Saturday, March 9 in the Carriage House Interpretive Center at the General Lew Wallace Study & Museum. The exhibit discusses the many locations in North America, Europe, Asia, and Africa the Wallaces visited.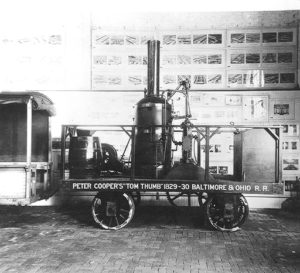 When Lew Wallace was born in 1827, travel could be a difficult and dangerous undertaking. Americans were moving west and settling new areas, but travel for recreation or adventure was almost unheard of. When Wallace was young, the modes of travel were basically the same as they had been thousands of years—either walking, by horse, or by boat. The first steam engine built in America was the Tom Thumb in 1830; it began a revolution in travel that changed the world. During Lew's life, steam locomotion, gasoline engines, and even planes flying in the air moved people faster and farther than ever before.
Susan traveled to New York for boarding school as a girl in the 1840s, but the Civil War also offered her opportunities to travel. She spent time at many of Lew's various postings, such as Paducah and Baltimore. She also visited friends in upstate New York during the war. Susan later traveled to Santa Fe to be with Lew while he served as Territorial Governor of New Mexico and to Constantinople while Lew was U.S. Minister to the Ottoman Empire. Fortunately for future generations, Susan wrote extensively about her travels in her books; she also wrote a great number of letters to family and friends while she was traveling.
Our 2019 exhibit will give visitors an opportunity to view images and souvenirs from the Wallaces' travels. We will explore modes of transportation, such as Lew's phaeton, his houseboat The Thing, and his Waverley electric automobile.
For more information about "From Crawfordsville to Constantinople," visit our Annual Exhibit page. There you will also learn about our Flat Lew project using the #WheresLew hashtag on social media.