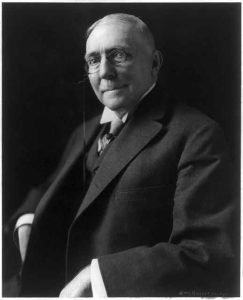 James Whitcomb Riley was born in 1849 in Greenfield, Indiana, to Reubin A. and Elizabeth Riley. Like Lew, Riley disliked school but loved to read; he left school at age sixteen. He read law with his father for a time, but apparently had little inclination or talent for it, and became a sign-painter. While writing advertisements for a wagon-show, he also began writing lyrics for the show.
In 1872 he had several poems published in the Indianapolis Saturday Mirror. The next year he entered the journalism field. He worked for the Greenfield News, the Anderson Democrat, and the Indianapolis Journal over the next two decades.
James Whitcomb Riley Works
His first collection of poems, The Ole Swimmin' Hole, and 'Leven More Poems, by Benj. F. Johnson, of Boone, was published in 1883 and was an immediate success. He went on to publish many other collections, and "When the Frost is on the Punkin," "Little Orphant Annie," and "The Raggedy Man" are among his most well-known works. "Little Orphant Annie" and "The Raggedy Man" were the inspiration for the name of Johnny Gruelle's famous Raggedy Ann rag dolls with their red yarn hair.
Riley's Rhymes of Childhood was published in 1891 and sold millions of copies. Early in his career, Riley faced financial difficulties because of unequal contracts during two national speaking tours. He later grew wealthy from book sales as well as live performances of his poetry.
Although Riley was seen as a children's poet, he never married. The home where he lived in the Lockerbie Square neighborhood of Indianapolis became a popular pilgrimage spot where parents would take their children to hear his poetry and be photographed with the famous poet.
Lew Wallace and James Whitcomb Riley
James Whitcomb Riley met Lew Wallace around 1885 and they became friends. In 1892, Wallace wrote an introduction for Songs of a Life Time, a volume of Sarah T. Bolton's poetry that also included a poem by Riley. In November 1893, Riley wrote an article for the Chicago Record, defending Lew Wallace against false charges of plagiarism, which served to cement their friendship.
Both men were members of the Western Association of Writers. On April 11, 1904, Lew Wallace's seventy-seventh birthday, this group of literary men, including James Whitcomb Riley, Meredith Nicholson, H.H. Howland, and W.C. Bobbs, presented Wallace with a loving cup.
When Wallace died on February 15, 1905, Riley published a poem eulogizing his friend–it can be read below.
Later Years
In 1910, Riley suffered a stroke that left his right arm paralyzed. His inability to use a pen depressed him, but he occupied himself by reading his poems aloud for records and donating land and money to build a new library. In 1916 he suffered a second stroke, dying the next day. His body lay in state for ten hours in the Indiana Statehouse, where thirty-five thousand people came to pay their respects. He is buried on the highest point in Crown Hill Cemetery in Indianapolis.
Gen. Lew Wallace by James Whitcomb Riley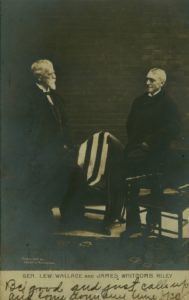 Even as his sculptured counterpart
Shall here endure through Dateless time
So lives he still in soul and heart,
Heroic and sublime —
A kinsman to us all, and yet
A prince of high and heavenly strain,
The world's love as his coronet,
Throughout an endless reign.
Aye, still he lives — where harvests hum,
And days of bounteous peace are ours;
Or at the sudden whirring drum
When battle tempest lowers —
He lives and moves, through war's alarm,
A sensate spirit, leading still
His legions with a wavering arm
And an unwavering will.
What heights of inspiration he
Awakens in each patriot brave
Who follows him to victory,
Above the very grave —
Who meets and smites the impious foe
That strikes the banner we so love;
It shields our every home below
Or hope of home Above.
Shall ever, in the coming years,
The Spirit of the Soldier fail
To fire men's lips with answering cheers
And prayers while arms prevail.
And shall not art forever shrine
Him living in her record thus,
And History, in glowing line,
Prolong his life for us!
NAY, Death, thou mightiest of all
Dread conquerors—thou dreadest chief, —
Thy heavy hand can here but fall
Light as the Autumn leaf:
As vainly, too, its weight is laid
Upon the warrior's knightly sword; —
Still through the charge and cannonade
It flashes for the Lord.
In forum — as in battlefield —
His voice rang for the truth — the right —
Keyed with the shibboleth that pealed
His Soul forth to the fight:
The inspiration of his pen
Glowed as a star, and lit anew
The faces and the hearts of men
Watching, the long night through.
A destiny ordained — divine
It seemed to hosts of those who saw
His rise since youth and marked the line
Of his ascent with awe: —
From the now-storied little town
That gave him birth and worth, behold,
Unto this day of his renown,
His sword and word of gold.
Serving the Land he loved so well —
Hailed midsea or in foreign port,
Or in strange-bannered citadel
Or Oriental Court, —
He — honored for his Nation's sake,
And loved and honored for his own —
Hath seen his Flag in glory shake
Above the Pagan Throne.