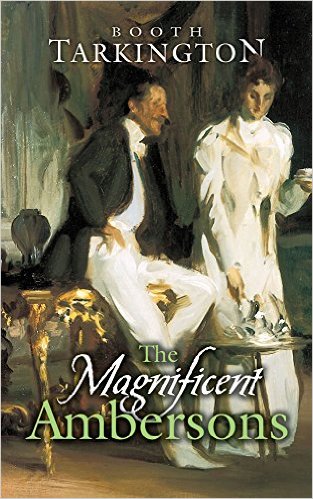 Join us Thursday, October 15 at 7 pm for a discussion in the Study of Booth Tarkington's Pulitzer-Prize-winning novel The Magnificent Ambersons! First published in 1918, this novel is a social commentary on wealth in American society. Set in a fictionalized version of Indianapolis, the novel traces the rise and fall of the Amberson family. Though written a century ago, the novel has themes that still resonate today.
We still have two copies of the novel available for those who need it, but it is also available to read for free at Project Gutenberg. The book can also be downloaded at that link for e-readers.
This book discussion club is designed to tie into our Bicentennial year programming. The Museum's 2016 exhibit will discuss the Golden Age of Hoosier Authors, which began with the publication of Lew Wallace's Ben-Hur. The Golden Age included prominent novelists such as Meredith Nicholson, Gene Stratton Porter, Maurice Thompson, and Booth Tarkington. The Golden Age of Hoosier Authors also coincided with Crawfordsville's fame as the "Athens of Indiana."
Book club participation is free and open to the public, but space is limited. To reserve a copy of The Magnificent Ambersons or for more information call Larry Paarlberg at 765-362-5769 or email [email protected].