Lew Wallace was not the only famous member of the 11th Indiana Volunteers during the Civil War. Colonel Dan Macauley also became famous. His face graced the cover of the sheet music for the "The 11th Indiana Quickstep" a toe-tapping song composed for the piano by Hubert J. Schonacker in 1863.
Dan Macauley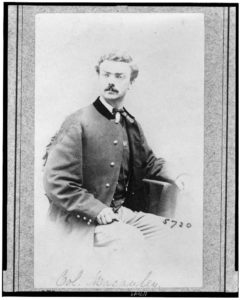 Dan Macauley was born in New York City on September 8, 1839. His Irish parents moved the family to Buffalo, New York, when Dan was seven years old. His father died of cholera in August of 1849. Although Dan spent a little time acting on the stage, after the death of his father, he apprenticed to a book-binding business. He stayed with that business until about 1860. At that time, he moved to Indianapolis to work for Mr. Bingham and Mr. Doughty at the Sentinel book-binding company.
Civil War
When the war broke out in 1861, Macauley joined the Indianapolis Zouaves as a private. He was soon elected first lieutenant. His unit joined the 11th Indiana volunteers under the command of Colonel Lew Wallace. Wallace personally asked Macauley to serve as his adjutant (assistant).
Promotions followed and within a year Macauley was a major; by September of 1862 he was a lieutenant-colonel; by March 1863 he was a colonel. After that, General Phillip Sheridan promoted Macauley to Brevet Brigadier General for gallantry on the field. General Grant had specifically recommended Macauley for the promotion.
Macauley saw significant action throughout the war. He fought alongside Wallace at Romney, Fort Heiman, Fort Henry, Fort Donelson, and Shiloh. He fought at Corinth. Macauley was wounded during the Vicksburg campaign and wounded again during a battle in the Shenandoah. Macauley lived for the rest of his life with a bullet in his hip from this second injury.
By April of 1865, he commanded the defenses of Baltimore. In August of 1865, after almost five years of continuous service, he returned to Indiana with his regiment and was mustered out of the army.
Marriage and Mayorship
Macauley married on March 26, 1863. After the war he and his wife returned to Indianapolis, where they raised their family. Dan returned to the book-binding business. In April of 1867, the Republicans nominated Macauley for Mayor of Indianapolis. He won the election and served for six years from 1867 to 1873 as the youngest Mayor of Indianapolis up to that time. In 1867, thirty-one percent of Indianapolis' foreign population was Irish, but most of the Irish were Democrats. As a result, his Irish ancestry and Civil War record made him an appealing cross-over choice. Macauley contributed much to his adopted hometown, including being one of the developers of the Woodruff Place suburb.
Dan Macauley had a varied career. After serving as mayor, he served as superintendent of the Indianapolis water works and as manager of the Academy of Music. In 1880, he left Indianapolis. In 1882 he engaged in developing Mexican mining interests. He followed this with stints managing hotels in New York City and Columbus, Ohio. During Benjamin Harrison's administration, he held the position of appointment clerk for the Treasury Department. In his last job, he worked for the Nicaragua Canal Company that ran steamers on Lake Nicaragua.
Unexpected Death
While on business for the company, he died unexpectedly in Nicaragua in 1894 and was buried there with full military honors. Macauley's family later brought his body home and buried him with honors in Arlington National Cemetery.
As Dan Macauley was laid to rest, one of the memorials stated: "The Eleventh Indiana Infantry was distinguished as one of the fighting and best drilled regiments, and from the date of its muster in until it finished its splendid career it never suffered defeat. When it is considered that such men as Gen. Lew Wallace and Dan Macauley were the directing influences that inspired this gallant command one has to look but little further to discover the reason for the success of the Eleventh Indiana."
The revolver used by Macauley during the war as he fought beside Lew Wallace is part of the permanent collection of the General Lew Wallace Study & Museum. We displayed the revolver as part of the 2012 exhibit, Courage & Conflict: Lew Wallace in 1862.