The play Ben-Hur opened on Broadway in 1899. Edward Morgan took the stage as Ben-Hur and William S. Hart portrayed Messala. Lew Wallace attended the opening night performance at the Broadway Theater and, like the rest of the audience, was pleased with the dramatic presentation of his work. An opening night critic penned: "Mr. Morgan looks well, and has a few stirring moments. Mr. Hart, as Messala, is as crudely violent and incoherent as ever." This critic, while apparently underwhelmed with the lead performances, had complimentary things to say about other performers and the music.
William S. Hart went on the play Messala for hundreds of performances over many years. In his autobiography he wrote how honored he was when Lew Wallace asked for a meeting where he praised Hart's interpretation of Messala. In fact, Hart was still performing the role of Messala on stage when he also played Messala in the first filmed version of the story in 1907.
William Farnum Replaces Edward Morgan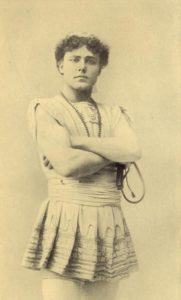 Mr. Morgan as Ben-Hur, on the other hand, was soon replaced. Morgan had been an actor of note in the 1890s. A handsome man and able actor, Morgan left the production for reasons unknown. He continued with a limited stage career for more than a decade. However, the role of Judah Ben-Hur did not do for him what it did for others. Morgan slipped into obscurity.
William Farnum replaced Morgan. Thanks to Ben-Hur, Farnum became one of the leading actors of his day and is still widely remembered. He was born on the 4th of July in 1876 in Boston, Massachusetts, to a family of performers. He was the son of actor G.D. Farnum and singer Adela Le Gros. As stage performers they trained William and his two brothers, Dustin and Marshall, in the family business.
Farnum's Stage Career Begins
Farnum made his stage debut at the age of ten in the play Julius Caesar. Famed actor Edwin Booth played the title character. Farnum had a number of small roles in the 1890s. But his casting as Judah Ben-Hur in 1900 made him a star. His highly regarded portrayal of the Jewish prince led to a string of successful performances in other plays, including the Broadway adaptation of Lew Wallace's Prince of India, with a limited run in 1906.
William Farnum Hits the Silver Screen
After his successes on Broadway, Farnum took his good looks and acting flair to the silent screen in 1914. He grew to be one of the most successful of the silent screen stars. Farnum starred in more than 50 films and even made the transition to talking pictures in the late 1920s. During the silent film era he became one of the highest paid actors in Hollywood earning $10,000 per week. He received injuries in 1924 while filming the movie The Man Who Fights Alone. As a result, this forced him to take smaller and less stressful roles. During the 1920s, he returned to the Broadway stage at different times with well received performances.
Farnum Switches to Character Actor
When his roles as a leading man became fewer and farther between, he deftly switched to playing a character actor. Farnum often acted in westerns, and continued his career for many years. In 1951, Farnum and Francis X. Bushman (who played Messala in the 1925 Ben-Hur movie epic) had cameo roles together in a movie called Hollywood Story. The film's storyline recounted the murder of silent screen director William Desmond Taylor, a friend to both men.
Farnum died in Hollywood on June 5, 1953. His pall bearers included Hollywood luminaries Cecil B. DeMille, Jesse Lasky, Frank Lloyd, Clarence Brown, Leo Carillo and Charles Coburn with a eulogy by Pat O'Brien. Gary Cooper, William Boyd (Hop-A-Long Cassidy), Noah Beery, Randolph Scott, and John Wayne were all directly influenced (and in some cases coached) by Farnum. While most of us remember Charlton Heston's impressive performance, actors such as Francis X. Bushman, Ramon Navarro, William S. Hart, and William Farnum also became Hollywood legends because Lew Wallace gave life to Ben-Hur.
The Farnum Film Family
William Farnum was not the only child of G.D. Farnum and Adela Le Gros to make good in Hollywood. His brother, Marshall, became a highly regarded actor and director until his death in 1917.
The third brother, Dustin, developed a Vaudeville act and starred on Broadway. Like William, he followed his Broadway successes by becoming one of the leading actors of the silent film era. Perhaps his most famous role was in the 1914 movie, The Squaw Man by Cecil B. DeMille. His pay for his role in the movie included stock in the company formed to film The Squaw Man. Dustin thought so little of this company that he gave the stock to his valet who became an overnight millionaire when the movie hit it big.
Dustin Farnum retired from acting about 1926 and died in 1929 from kidney failure. Beyond his acting career he is also remembered by movie trivia experts—in 1937 Lillian Hoffman of Los Angeles, named her son after her favorite movie actor, Dustin Farnum.
---
Sources:
Internet Movie Data Base
FilesofJerryBlake.netfirms.com
Internet Broadway Data Base