Do you have a mystery photo in your family album? Or perhaps you have several mystery photos. This video might help you solve those mysteries.
The Museum's Dr. Howard Miller Lecture Series resumed Thursday, July 11 with "Dating and Preserving Historic Photographs." Participants learned to interpret, date, and protect family photographs from Joan Hostetler.
Hostetler discussed the history of photo formats and shared how to use internal evidence, such as clothing, to date photographs.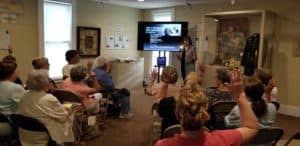 Photo Scanathon on Saturday
This Saturday, July 13 from 10 a.m. – 4 p.m. Hostetler will return to host a photo scanathon. Historians and students won't find interesting historic photos that live in your attic. The Indiana Album brings our collective history to the web — one photo at a time.
Participants should bring along photographs, postcards, or documents from any era. Photos should be of Indiana houses, farms, businesses, schools, churches, bands, clubs, transportation, or interesting people. The Indiana Album wants portraits of prominent or pioneer residents. They also welcome people participating in activities and snapshots of everyday life.
Volunteers will make high resolution scans while you wait. Later the records will be uploaded into their catalog. They handle all documents carefully and return them immediately to the owners.
Please make an appointment by emailing [email protected] or calling 317-771-4129.
Joan Hostetler
Joan Hostetler graduated from Herron School of Art. She received an MFA in Imaging Arts/Museum Studies from Rochester Institute of Technology. Joan graduated from the Photographic Preservation and Archives Management Program at George Eastman House International Museum of Photography and Film.
Since 1998 she has operated Heritage Photo & Research Services. She owns the business with her husband, John M. Harris. Past clients include the Indianapolis Museum of Art, Indiana Historical Society, Marion Public Library, RKO Pictures, and the Jefferson County Historical Society.