Frederick Hamilton-Temple-Blackwood, 1st Marquess of Dufferin and Ava, Viscount of Clandeboye, KP, GCB, GCSI, GCMG, GCIE, PC. A long name and list of titles for a man who met, worked with, and liked a fellow with a short name—Lew Wallace.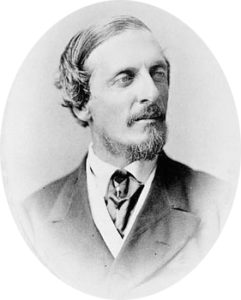 Lew Wallace met and impressed Lord Dufferin during their shared tours of diplomatic duty in the Middle East. Dufferin wrote letters and inscribed books to the Hoosier thanking him for his services and expertise. The expressions of appreciation are significant. Lord Dufferin was a career diplomat with a number of successful appointments during his life; Wallace had only the single term of service as a diplomat.
For a man who started life in rural Indiana, associating with men like Dufferin must have been exciting.
Dufferin's Early Career
Born in 1826, one year before Wallace, Dufferin became a popular member of Queen Victoria's court. After he published a best-selling account of his adventures in the North Atlantic, his fame grew. He proved to be one of the most successful diplomats of the 19th century.
His public service began as commissioner to Syria in 1860. He kept British interests alive and thwarted French efforts to expand their influence. He left this position to serve as Chancellor of the Duchy of Lancaster and Under-Secretary of War for Great Britain. Later, he became the popular and effective third Governor General of Canada.
Service in the Middle East
From 1879 to 1881, Dufferin served as ambassador to Imperial Russia. He then moved on to serve as British ambassador to the Ottoman Empire from 1881 to 1884, where he worked and socialized with Lew Wallace.
In 1882, Britain invaded and occupied Egypt. Through diplomatic efforts, Dufferin maintained British influence in the region. Lew Wallace participated in the negotiations between the Ottoman Empire, the British, and the Egyptians.
Dufferin and Wallace
Although the settlements reached did not reflect Wallace's goals for resolving the conflict, his diplomatic skill earned him the respect of the men he negotiated with. Through his work on this issue, Lew Wallace obtained a promotion from minister resident to envoy extraordinary and minister plenipotentiary.
As the Egyptian issue quieted, the two men maintained a personal as well as a professional relationship. Both men left their terms of service in the Middle East at about the same time. Dufferin went on to have additional diplomatic successes while Wallace returned to the life of a private citizen.
Viceroy of India
Dufferin reached the peak of his diplomatic career in 1884, when he became the 8th Viceroy of India. For English interests of the day he was very successful and well liked. He was credited with keeping Great Britain from going to war with Russia and he secured the annexation of Burma for the Crown.
Wallace went on to great fame and financial gain while Dufferin suffered financial reversals and family difficulties. Widely respected by all who knew him, Dufferin was remembered as a charming man in high society on three continents. He helped create the Empire where the sun never set.