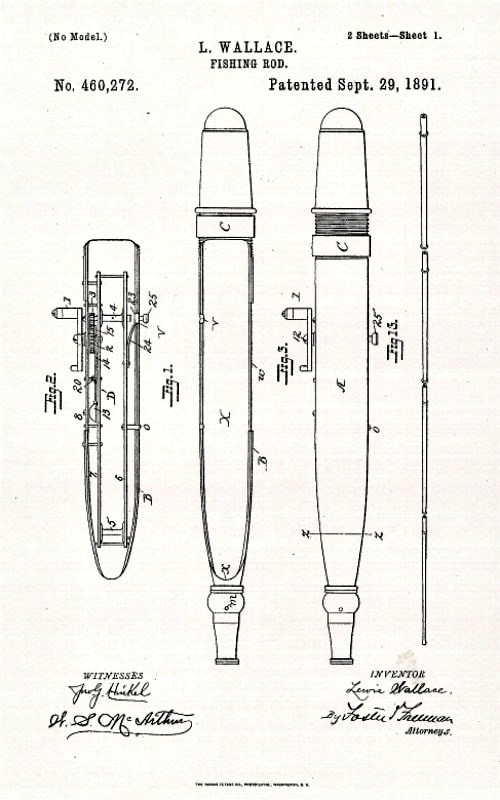 Did you know that Lew Wallace was crazy about fishing?
Lew had a moat on two sides of the Study and stocked it so he could fish from the back porch. In the winter, he could fire up the coal furnace in the Study basement and stick his fishing pole out the windows.
He also traveled to the Grand Kankakee Marsh in northwestern Indiana for fishing and hunting opportunities. He owned a houseboat called The Thing, which served as his base in the marsh. Lew often took friends with him on these expeditions.
In fact, he loved fishing so much he invented a special traveler's fishing pole.
Reinventing the Reel
Lew wrote, "My invention relates to fishing-rods and reels; and it consists in constructing the rod with a hollow handle and in constructing the reel and adapting it to such hollow handles…" The line reel was integrated into an aluminum handle. A hollow wooden pole attached to the end of the handle and carried the line inside.
US Patent No. 460,272 was issued for the invention on September 29, 1891. The patent explains "having a chamber for receiving a reel device with two separate apartments, a driving-wheel, a multiplying pinion, an alarm-bell, and a lever for striking the bell arranged in one compartment, and two spools designed for the carriage of a line arranged in the other compartment, substantially as herein shown and described."
Water Babble
Lew dug several ponds on his country property, Water Babble. He intended to create a fish hatchery on that property. After his death, Susan offered the property to the federal government. However, the government decided not to purchase it. Eventually, the Crawfordsville Country Club purchased this property. Many of the ponds still exist near the golf course.
Be sure to stop by the Study for a tour, where you can see this invention along with his collection of cane poles!