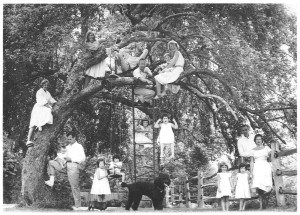 Are your family photographs neatly organized with all the names, dates, and locations written on the backs? Even more organized, are they in archival scrapbooks with appropriate labels in chronological order? Or do your family records look more like mine–a few haphazard scrapbooks and albums with photos that may or may not be labelled, with the extra photos shoved in boxes that aren't organized by…much of any criteria?
Whatever the answer, you may be interested in popping in for our upcoming genealogy lecture. If you're uber-organized, you can sit there and feel smug. If you're like the rest of us, you can learn how best to preserve your family photographs.
And if your photos are unlabeled, you can learn how to be a photographic detective and figure out a little bit more about those unlabeled, undated, unidentified photos! Use clothing, appliances, vehicles, and other background items to help discover the date and location.
Join us September 12 at 7 p.m. at the Carriage House for this free lecture. Joan Hostetler of Heritage Photo and Research Services will discuss photographic processes and formats from the 1840s to the present. She will share clues for dating photos and techniques for preserving them. Bring your own family photos to learn more about them!
This lecture is free and open to the public. With limited seating available, we do like to have a head-count beforehand. Please RSVP by emailing us at [email protected] or calling us at 765-362-5769.
If you're unable to join us that night, you can always follow us on Twitter, where we livetweet tidbits from the lecture with the hashtag #genealogy.