Part of the work of an historian is to record and preserve all history, not just the pleasant parts. This post recounts a scandalous event involving Lew Wallace's brother William. The scandal that enveloped the Indianapolis National Bank also affected many of Indiana's most influential people.
The Indianapolis National Bank
The Indianapolis National Bank organized in 1864 with Theodore Haughey as president and Ingram Fletcher as cashier. Some of Indianapolis' most esteemed citizens deposited their money there. Relationships with the rich and powerful were so close that Theodore P. and his wife, Hannah, named their youngest son Schuyler C. Haughey after close family friend Schuyler Colfax—Speaker of the United States House of Representatives during the Civil War, Vice President of the United States, and one of Indiana's most influential men.
By all accounts, Lew Wallace's older brother William was a capable, honorable, and trustworthy person. From 1855 until 1860, William Wallace and Benjamin Harrison were law partners. Their partnership was just one example of the friendships between the Harrison and Wallace families that crossed the generations. Harrison and Wallace also entered into other partnerships of various kinds including some with Theodore Haughey (pronounced Hoy).
Theodore Haughey
Born in Delaware in 1826, Theodore Haughey moved to Indianapolis in 1848. He married Hannah Moore in 1853 and they had a daughter who died young. They also had two sons, Louis Chauncey and Schuyler Colfax. Theodore worked first as a book keeper and accountant. He soon moved up the ladder of success as secretary and treasurer of one of the major railroads in Indianapolis. He dabbled in real estate. During the Civil War served as collector of internal revenue for the Indianapolis by President Lincoln. During the war he also became president of the Indianapolis National Bank. Over the years he also served as a trustee of Asbury University (now DePauw University) in Greencastle.
The business relationship between William Wallace and Theodore Haughey turned personal when William's daughter Zerelda married Theodore's son, Louis Chauncey Haughey. Louis Chauncey and Zerelda reared several children: Theodore P., William, Esther, Lawrence G., John D., and Louis C. Haughey. Several members of the Haughey family followed Theodore in business at the Indianapolis National Bank. Involvement in the bank eventually brought the family down.
Benjamin Harrison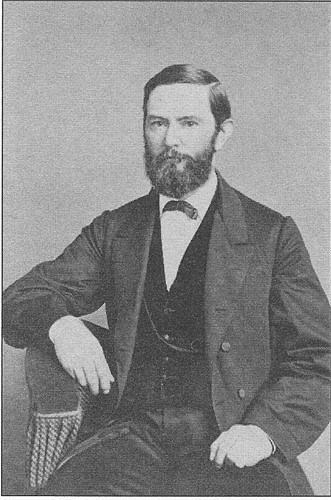 Fortunately for William Wallace, his friendship with Benjamin Harrison continued over the years. Although William had completed a successful career and retired, at the age of 64 he was suddenly in need of a job. Many people felt he was working to keep his son-in-law Louis and daughter Zerelda afloat. In 1889, President Harrison, in an effort to help, appointed William the City Postmaster in Indianapolis.
This proved a difficult position for William Wallace. However, he worked dutifully, enduring criticism by those seeking Civil Service reform, until his death in 1891. William Wallace's name was never associated with the looming financial debacle. Nevertheless, with his passing, the Indianapolis National Bank's house of cards came crashing down.
Indianapolis National Bank Embezzlement and Arrests
The Haughey family's relationship with Schuyler Colfax would prove useful when the bank ran into some difficulties in 1884. Mr. Colfax personally added $27,500 to the bank reserves and encouraged others to do the same.
It's believed that at this time, the swindles and embezzlement by Theodore P. Haughey started. He began to create fictitious companies, placing his sons Louis and Schuyler in charge of some of them. In ways, some simple and some complicated, Theodore embezzled great amounts of money for almost a decade.
In August of 1893, Theodore was arrested at his home and charged with embezzlement and misapplication of funds and credits of the Indianapolis National Bank. Arrested at the same time were his son, Schuyler Colfax Haughey, and other associates Francis A. Coffin Percival Coffin, and Albert T. Reed. Schuyler, the Coffins, and Reed were charged with aiding and abetting Theodore. Theodore was indicted for embezzling more than $700,000. At the time of the arrests, the bank had liabilities of $2,000,000 and assets of approximately $300,000. Among the 3,000 creditors who lost their savings were charitable aid societies, school teachers, and members of Theodore's church.
Shockwaves
Theodore's arrest sent shockwaves through Indianapolis. He had been esteemed member of the Meridian Street Methodist Episcopal Church. He served the Indiana conference as lay delegate to national conferences. In addition, he taught Sunday School for many years. He served as treasurer of the Grand Lodge, Independent Order of Odd-fellows for over 25 years. He held the position of chairman of the finance committee for six years of the Second Ward in the Indianapolis City Council. Also, he supported numerous charities and worthy endeavors. Glowing tributes directed toward Theodore in the early 1880s were swept away in the early 1890s as his financial misdeeds became known.
Indianapolis National Bank Court Cases
The complicated case wound its way through the court system, ruining reputations and lives. Many decisions went before the Supreme Court. Theodore pleaded guilty and at the age of 75 was sent to the penitentiary for six years. Newspapers reported that they did not think he would survive the humiliation and disgrace.
In the 1890 census Theodore, Hannah, and their grandson William lived in a middle class neighborhood on North New Jersey Street. In 1900, they still lived in Indianapolis, but they do not show up in 1910 records. Given their advancing ages, Theodore and Hannah may have moved in with family members. Theodore lived until 1914. His wife Hannah predeceased him by two years, passing away in 1912.
Ultimately, Schuyler Haughey's 1895 trial ended in acquittal. Louis Haughey (William Wallace's son-in-law) was not arrested. Louis had involved himself to some degree. However, many didn't see him as a major player. Authorities might also have believed Hannah would have no one to care for her if both sons and her husband went to prison.
Aftermath
Theodore and Hannah remained in the city in the aftermath of this financial collapse and social embarrassment. However, other members of the Haughey family left Indianapolis. By 1890, Louis C. Haughey and his wife Zerelda moved to Chicago. Census records indicate that their children lived with them. They could still afford to pay several house servants. By 1920, they had moved to Buffalo, New York, and lived in a boarding house. Their children and grandchildren, in turn, moved on to places far and wide.
In 1890, Schuyler Colfax Haughey and his wife Gertrude also lived in Chicago in a comfortable residential hotel. Within a few years they left the Midwest and moved to Pasadena, California, where they lived the rest of their lives.
William Wallace took no part in the scandal, but the failure of the Indianapolis National Bank destroyed many lives. It surely affected the Wallace family personally and financially, if not socially.
---
Sources:
National Bank Frauds by Franck G. Carpenter
History of Indianapolis and Marion County by Berry Sulgrove
History of Greater Indianapolis
A Biographical History of Eminent & Self Made Men of the State of Indiana, 1880
Life of Benjamin Harrison by Lew Wallace
The New York Times, August 22, 1893; November 26, 1893; May 29, 1894