Her The General Lew Wallace Study & Museum is hosting several regional authors for their second annual Lew Wallace Hoosier Author Fair. The public is invited to the Carriage House on Saturday, November 25 from 1 – 4 pm to meet eight Hoosier authors and celebrate Small Business Saturday.
This event is free and open to the public and will be held in the Carriage House Interpretive Center. Authors sell and sign books and chat with readers. The authors attending write in several genres. Author guests include historian and biographer Ray E. Boomhower, inspirational author Kelly O'Dell Stanley, dog training expert and fantasy author Laura VanArendonk Baugh, award-winning novelist Susan Crandall, mystery author Garrett Hutson, Parke County teacher and writer Mike Lunsford, Underground Railroad expert Shannon Hudson, and fantasy author Stephanie A. Cain.
Speculative Fiction Authors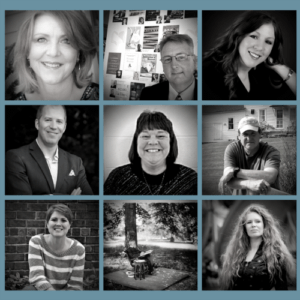 Laura VanArendonk Baugh writes award-winning epic, urban, and historical fantasy, mystery, non-fiction, and more. Her latest novel, The Songweaver's Vow, is nominated for SPFBO Best of 2017. Check out her upcoming epic fantasy and the new seasonal anthologies debuting at the fair!
Stephanie A. Cain writes epic & urban fantasy novels. She grew up in Indiana, the setting of much of her urban fantasy. She works at the General Lew Wallace Study & Museum and at Crawfordsville Parks and Recreation. A proud crazy cat lady, she enjoys hiking, bird-watching, and computer gaming. In addition to her own novels, she will be selling copies of New Richmond, IN: A History of the Greatest Little Town on Earth, written by her grandmother, Phyllis Waye Boone.
History Authors
Ray E. Boomhower is senior editor at the Indiana Historical Society Press, where he edits the quarterly popular history magazine "Traces." He is the author of fourteen books, including biographies of Gus Grissom, Lew Wallace, Ernie Pyle, May Wright Sewall, and John Bartlow Martin.
Shannon Sullivan Hudson has been a middle school teacher for 30 years–28 of them in Crawfordsville. She loves history, quilting, reading, crocheting, knitting, walking, cross stitching, and spoiling her dogs. She writes, "My maternal first cousins traced our family history discovering we descended from a very long line of Quakers who settled on the eastern side of Indiana, right in the middle of Levi Coffin's operation near Richmond. My research opportunities presented themselves in two Lilly Teacher Creativity Grants in 2003 and 2016. I began to study a broad set of information relating to the Underground Railroad, to expand on existing information, and to complete my journey by telling Montgomery County's piece of the Underground Railroad puzzle. [Abolitionists on the Underground Railroad: Legends from Montgomery County, Indiana] is the culminating document of my findings from that very long journey."
General Fiction Author
In her first career, nationally bestselling novelist Susan Crandall was a dental hygienist. She has spent the past fifteen years devoted to writing and helping young authors. With the exception of seven years in Chicago, Susan has lived her entire life in Indiana. Her works have been translated into several languages. Whistling Past the Graveyard was Winner of the SIBA Fiction Book of the Year, an Indie Next pick, an Okra pick, as well as a Target Book Club pick. Her most recent published title, Okra pick The Flying Circus, takes place partially in Crawfordsville. Her next novel, The Myth of Perpetual Summer, releases in June 2018.
Mystery Author
Garrett Hutson has been writing stories since before he could spell. A life-long resident of Indiana, he ties most of his stories to the Hoosier state in one way or another. An avid student of history, Hutson mostly writes upmarket historical fiction, focusing on little-known or ignored settings and characters. So far, he has three books published, with many others in the pipeline, including a sequel to The Jade Dragon. He lives in Indianapolis with his husband, three dogs, three cats, a bird, and too many fish to count.
Nonfiction Authors
Mike Lunsford is a teacher, writer, and photographer. His human interest column appears regularly in the Terre Haute Tribune Star; Field Notes is his sixth book. Mike lives on 15 acres with his wife, Joanie, works out of a small writing cabin near his home, and has two children, Ellen and Evan, and two grandsons, Daniel and Joseph.
Kelly O'Dell Stanley is the author of Praying Upside Down and Designed to Pray. A graphic designer who writes (or is it a writer who designs?), she's also a redhead who's pretty good at controlling her temper, a believer in doing everything to excess, and a professional wrestler of doubt and faith. She offers free prayer prompt calendars at kellyostanley.com and calls small-town Indiana her home.
The Hoosier Author Fair is free and open to the public. For more information about the event and the authors participating, visit the event page or call 765-362-5769.