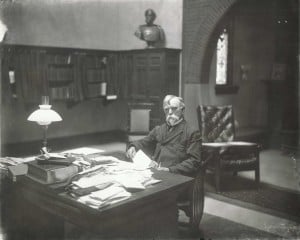 At least eight important sculptors (not counting the General himself) have contributed to the artistry of the General Lew Wallace Study. Inside the building reside a bust of Wallace created by Randolph Rogers, a statue of Ben-Hur the galley slave done by George Peterson in 1888, and two plaster studies done by H. R. Saunders. These plaster studies were used by a fourth important sculptor, Bohumir Kryl. Kryl was the young man who carved the four faces representing characters from Wallace's books in the exterior limestone frieze.
Lew Wallace felt that an ideal study or retreat needed a copy of "The Thinker." In 1885, ten years before he began work on the Study, Lew Wallace asked a friend of his to contract for a Carrara marble copy of Michelangelo's "Il Pensiero" of Lorenze de Medici. The friend, writer Francis Marion Crawford, was living in Italy at the time. Crawford made arrangements for this important marble statue.
The largest piece of stone carving on the grounds was added about 1911 by Sidney Speed. Speed carved the pedestal that supports Andrew O'Connor's bronze statue of Wallace, a replica of the white marble piece in Statuary Hall.
Finally, there is an additional piece of sculpture on the grounds—a bust of David Wallace that was once part of a decorative frieze on the old English's Opera House and Hotel in Indianapolis. The name of this eighth artisan who created this particular work of art is unknown.
Bohumir Kryl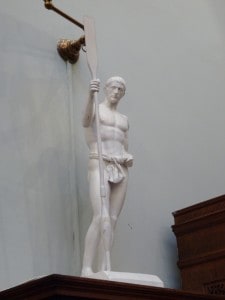 While the Study grounds have at least one piece of sculpture by an artist whose name is missing, we may also have an artist with a name whose sculpture is missing! The July 11, 1907 issue of the Crawfordsville Journal quotes Bohumir Kryl describing a statue that he created for General Wallace's Study that has disappeared. Lew Wallace had been gone for just two years and Susan was still alive when this article was written. It opens with the sentence: "Those who have had the pleasure of a visit to the study of the late Gen. Lew Wallace will recall the statue of Ben-Hur which occupies a prominent place there, and also other busts and ornaments in stone and plaster."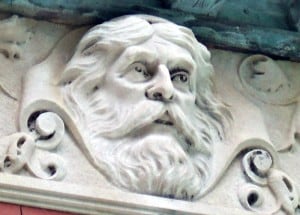 In the short article, Kryl discusses his work on the Soldiers' and Sailors' Monument in Indianapolis. He says: "…During this time I went over to Crawfordsville and worked on busts and ornaments that were placed in Gen. Lew Wallace's studio. Some of these were figures representing characters in the "Prince of India" and in "Ben-Hur." A statue of Ben-Hur was the largest figure I made at that time."
The Missing Sculpture
The article's author wrote very specifically about the existence of this statue. Susan Wallace was still alive. Kryl had worked at the Study barely ten years before the article. Yet, somehow, no historic images or other references to this statue have been found.
Did this statue really exist? If so, what did it look like and where did it stand on the property? Where did it go? Is it in someone's basement? Given Bohumir Kryl's talent, this must have been an impressive work of art that would have contributed much to the property. While mystery and intrigue add to the aura of historic sites, this is one mystery we'd love to solve. So keep your eyes open while checking out those Saturday morning yard sales around Crawfordsville—maybe you'll find Judah Ben-Hur!