The years from 1880 to 1920 are often recognized as the Golden Age of Indiana Authors. There had been well respected Hoosier authors before 1880 and certainly many literary leaders in the years after 1920, but beginning with Lew Wallace and his book Ben-Hur, there was an outpouring of best selling works by a variety of Hoosier authors that has not been equaled in almost 100 years. People still remember names like James Whitcomb Riley, Booth Tarkington, Meredith Nicholson, George Ade, George McCutcheon, and Gene Stratton Porter. With his leading role in this golden age, Lew Wallace befriended most of these authors and mentored several of them.
Charles Major
There were others who burnished Indiana's literary history during the golden age who are not as well remembered today. One of these was Charles Major. In the first decade of the twentieth century Charles Major dominated the field of American authors. Born in 1856 in Indianapolis, Major and his family moved to Shelbyville when he was 13. He attended the University of Michigan between 1872 and 1875. He pursued a career as lawyer who, like Lew Wallace, dabbled with writing on the side.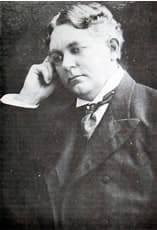 Like Wallace, Charles Major did exhaustive research on his topics before putting pen to paper. His first book, When Knighthood Was In Flower was published in 1899. This novel, a historical romance set in the time of Henry VIII, became a best seller. It remained on the New York Times best seller list for almost three years. In 1901 a Broadway produced When Knighthood Was in Flower. Two successful films, in 1908 and 1922, interpreted the story.
With the success of his first book, Major quit his legal career to pursue writing full time. Beyond writing historical fiction, Major enjoyed success as the author of children's adventure stories such as The Bears of Blue River written in 1902. He set many of his children's stories written over the next decade in Indiana. His third book, Dorothy Vernon of Haddon Hall, was just as successful as his first. It too spent years on the Times best seller list, went to Broadway stage and in 1924, Mary Pickford starred in the screen adaptation.
Major's Letter to Lew
Lew Wallace had a reputation for encouraging young people. In particular, he counseled struggling authors who had met with rejection or had difficulty finding their voices. Major was aware of this reputation and had sought Wallace out. Just prior to the publication of his first book, Charles Major wrote a letter to Lew Wallace. Major told of the first time he sought to meet the esteemed author Wallace. On December 28, 1898, Major wrote:
"I beg to tell you a bit of ancient history that may amuse you. Many years ago, when I was quite young, I became so enamored of your works and was so anxious to see the author of them that, after many privations, I saved enough money and went to Crawfordsville to call on you. I went, but after I got there my heart failed me, and alas! I came home and the only satisfaction I had was that I spent my money. From this incident you can judge my delight in meeting you the other day. When The Fair God first came out, you had met Dickens and Thackeray, and had they said to you the kind, generous and encouraging words you spoke to me and to Miss Marlor about me, you could not have resisted the temptation to express your delight and appreciation. . . no more than I. Therefore, may the last and least of Indiana's authors say to the first and greatest, that he thanks you for your generous kindness and encouragement (a thing, by the way, above and beyond Dickens and Thackeray). That he hopes some day to make a trip to Crawfordsville that will not be in vain, and from his heart of hearts he wishes you the happiest of New Years."
Wallace the Mentor
While Charles Major's self assessment as the last and the least of Indiana's authors proved incorrect, his admiration for Wallace as a kind mentor to emerging writers was on target. Beyond his role in ushering in the Golden Age of Indiana Authors with the publication of Ben-Hur, that era would have been vastly different without Lew Wallace's interest in and encouragement of the young Hoosier men and women who followed him pen in hand.