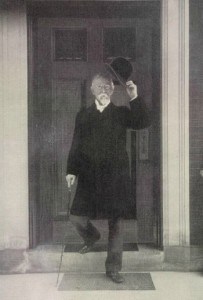 Among the many items in the Study, the General Lew Wallace Study & Museum has a collection of canes associated with the General. Throughout his life, Lew Wallace maintained a military bearing. Acquaintances frequently commented upon his erect posture. However, Lew often used a walking stick about town. Beyond aids to walking, canes also served as ceremonial gifts in the 19th century. They were given in recognition of significant events or to honor important people.
According to museum records, one of the canes in the museum possesses a special significance. It was made from a sapling growing where General Wallace pitched his tent prior to the Battle of Shiloh in 1862. In later years, when the General traveled to the battlefield, he visited his campsite. He saw the maturing tree and asked for wood from it.
After receiving the wood, Lew sent it to Tiffany and Company in New York. Tiffany's made a walking stick and affixed an ivory handle to it.