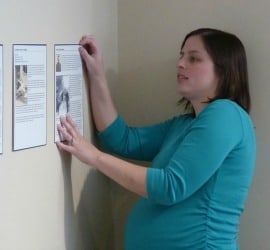 Last week, I posted about how a museum exhibit is built. Associate Director Amanda McGuire took some time to talk with me about what goes into choosing an exhibit theme and content. Today, I'd like to tell you all a little more about the challenges we face when we're preparing our exhibit.
What are some of the challenges you encounter when putting together an exhibit?
Anything and everything.  Sometimes you have too much information, sometimes not enough.  Sometimes you can't find artifacts to help tell the story. Other times, it's hard to decide what to leave out.  We print a lot of things in house and technology doesn't always cooperate when you need it.
We have also had guest curators in the past.  In 2009, for the exhibit "Embattled", Gail Stephens wrote the text.  She has studied Wallace's military career extensively and wrote the book Shadow of Shiloh. Who better to write the exhibit text on Wallace's military experiences?
Do you only use artifacts that belong to the General Lew Wallace Study & Museum collection?
No.  We use as much of our own collection as we can. However, our collection is very limited so we often look to other individuals or institutions for loans.  The museum has borrowed items from the Ramsey Archives at Wabash College in the past. Last year we borrowed some items from Wallace Scholar Roger Adams.  We don't have any artifacts relating to Wallace's time in Cincinnati in 1862. That formed a big part of our exhibit last year, so we knew we needed to have some objects to help tell that part of the story.  Roger graciously loaned us several items that helped fill the gap left by our collection.
This year we borrowed a jacket and kepi that belonged to Henry Wallace as a young boy from the Children's Museum of Indianapolis.  One of the curators there attended a meeting here and told our Director about the items in their collection.  When we decided to do the exhibit about the family, we knew this was something that we wanted to include because we really don't have a lot of objects related to Henry.  Our Associate Director: Collections got in touch with the curator and started the process of obtaining the loan.
Are there challenges related to the amount of space or the shape of the museum exhibit room?
Of course!  There is no straight wall in the carriage house so it is hard to get the exhibit cases level and the labels to appear straight on the walls.  The large exhibit case only has two places that it can sit and be level (this year is actually the first time it will be in a different location) so that limits how we can display items as well as the flow of the exhibit.  If you use a level to hang the labels or the large acrylic quotes, they look incredibly crooked due to the slope of the ceiling so it all has to be done by eye and what looks straight instead of what actually is straight.
What factors do you have to take into consideration when planning a museum exhibit?
You have to think about how much space you have, where artifacts and labels can go to make the exhibit flow well and how to tell the story in an interesting way. Another important factor is the balance of artifacts and text. Visitors at a museum learn from the information on labels, but an artifact can often convey more emotional impact than text, so it's important to have a good balance.
What are some challenges that occurred specifically with "Generations"?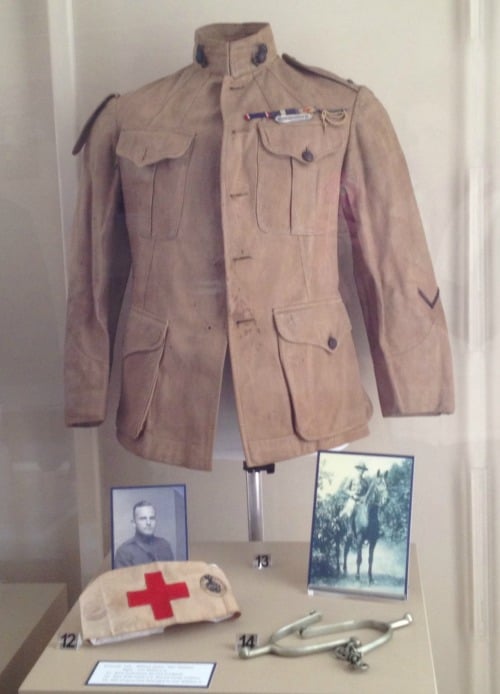 We didn't know a whole lot about some of the family members.  At first we didn't know how we were going to talk about everyone.  It looked like it was just going to be biographies about everyone but that is kind of boring.  After doing some more research we found that there were a lot of similarities so we decided to explore those more.  Making the connection of shared characteristics with Lew and Susan tied the exhibit together.
Once we figured that out it was a little easier to focus the research and ask the family the right questions.  We also did not have a lot of artifacts for some people. A lot of our artifacts related to Lew's grandson Tee are centered on his military career.  We barely have any artifacts related to Henry (other than his photographs) and his other son Lew Jr.  Some members of the family like Josephine and Lew III, we had never seen pictures of or only had baby photos.  Members of the Wallace family were kind enough to scan some for us to use in the exhibit.
Our exhibit officially opens tomorrow, so be sure to stop in and check it out!
We're also running a Facebook check-in special to kick off our exhibit opening. If you visit, make sure you check in on Facebook to receive a 10% discount on all gift shop purchases!