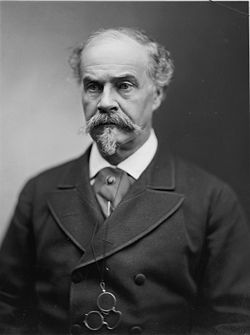 The Angel of Grief by William Wetmore Story is one of the most evocative stone carvings of the late nineteenth century. It became so famous that the term has become synonymous with many grave stones erected in Story's style.
William Wetmore Story
William Wetmore Story was born in 1819 in Boston. His father was Supreme Court Justice Joseph Story. William studied at Harvard. A child of privilege, he spent time with influential people like Robert Browning, Thackeray, Nathaniel Hawthorne, Hans Christian Anderson, Henry James, and James Russell Lowell.
William had a successful law career. He also published poetry and essays. In addition, he sculpted as a hobby. This hobby took on new meaning in 1845, when he created a monument in memory of his father. This commission, combined with a bout of typhoid fever, caused Story to leave his law practice and pursue sculpting full time.
Emelyn Eldredge Story
William Story married the love of his life, Emelyn Eldredge, in 1843. Together they had three accomplished children. In the 1850s, Story moved his family to Rome. While living there, he completed one of his most famous works, Cleopatra, in 1858. With this statue, he moved American sculpture toward a new romanticism. This style combined realism and psychological drama that was in sync with Victorian tastes. Pope Pius IX so admired Cleopatra that the Roman government paid all shipping costs in order to exhibit it in 1862 at the Roman Court of the International Exposition in London. This event cemented Story's reputation.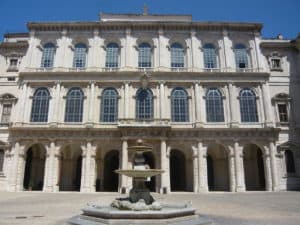 William and Emelyn Story's home in Rome became world-famous for its hospitality. This hospitality was helped by the fact that their "home" was a forty room apartment in the Barberini Palace. The palace showcased Baroque architecture in Rome. Construction on the Barberini Palace had begun in 1625. Urban VIII, the Barberini pope, ordered it built.
The Wallaces and the Storys
Among the famous guests who visited Mr. and Mrs. Story were Lew and Susan Wallace. The Wallaces visited in 1883, and the two couples developed a significant friendship. Anne Hampton Brewer also met the Wallaces at the Palace. Brewer later wrote in a letter to Susan, "how the General literally charmed us all last evening at Mr. Story's with his brilliant conversation. It is so seldom that a fine writer is a fine talker."
In 1884, William Story penned a letter to "My Dear Mrs. Ben-Hur." Story noted that Susan's previous letter had touched him. He apologized for his delay in responding. He blamed his delay on the desire to finish reading Ben-Hur before writing. He said that with all of the interruptions of his life he just could not find time for the book until he and his wife decided to read the story aloud to each other. They developed a deep and sustained interest in the vivid prose and both felt great regret as they finished the last page.
A Long-Distance Friendship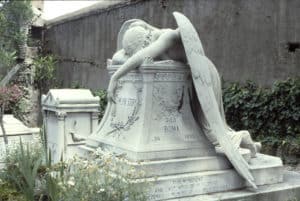 The relationship continued through letters between the families. In 1886, Mrs. Story wrote in a long letter to Susan Wallace: "Many a time, impatient of the silence which has come between us, have I wished to break it on my side, but so vague was my knowledge of your whereabouts that I was frightened about launching into infinite space my little skiff. Your most kind letter came and helps me to find you out…
"The book of books [Ben-Hur] of this age! Read aloud for the second time it has lost none of its rare charm, and it is beyond words to say how greatly we prize it. All our English friends to whom we have introduced it join in this chorus and its reputation is fast growing there as in America…
"I do not like to think that being snugly settled in your old home, 'outre mer,' we are not likely soon to see you in Rome, but we cling to the hope that it is not impossible…
"Our plan is to go to Rome next week and shake down into our old routine at the Palazzo Barberini early in November. How pleasant had we hope of seeing you there [Palazzo Barberini] this winter, I do not like to wait too long for my good things, but am impatient in my old age to snatch them up lest the escape me altogether."
The Angel of Grief
When Susan wrote her book, Along the Bosphorus, she wrote warmly of William Story, describing him as one of the finest people she had ever known. She went on to say "Of the friends we left in Rome, Story was among the last to join the silent majority.
"The loss of the wife of his youth, whom he survived but a year, was a bitter blow; and with her passed his interest in affairs. It was only when his children suggested that he should make a monument to her memory that he consented to resume work; the design he chose was the Angel of Grief, and it is wrought to exquisite finish…
"When this was done he left the studio never to return. The illness which began shortly afterward was long and severe. Soon he was forced to stay almost continually in his room, and strength waned till time became a burden too grievous to be borne. His best lover would not have held him back from the unseen land of which he wrote so tenderly."
Story died in October of 1895, just a year after Emelyn's death. The monument he created for her marks their graves in Rome and became one of the most powerful and touching illustrations of love and loss in the Victorian era.
Sources
Letter from Anne Hampton Brewer to Susan Wallace, March 11, 1883
Articles by Joann Spragg, Journal Review, August 18, 2000 & September 21, 2000
Susan Wallace, Along the Bosphorus, Rand McNally & Co., New York & Chicago, 1898.