Lew Wallace's most widely remembered military exploits were the result of his participation in the Civil War. However, his interest in the military predated his Civil War experiences by many decades. His participation in the Mexican War began a lifelong love of Mexico
His father, David, had attended West Point. David's military regalia and training fascinated Lew. As a boy in 1830s Covington, Lew emulated his father's militia maneuvers.
At the age of 19, Lew rented a store front in Indianapolis, raised his own regiment, and became second lieutenant of the 1st Indiana Volunteers.
Lew Heads to Mexico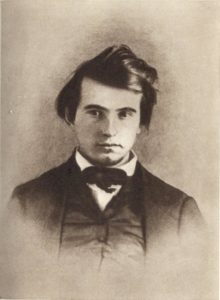 In 1846, Lew was about to take the bar exam as war became imminent between the United States and Mexico. He wrote in his autobiography, "Hurrah! Of what consequence was a license to practice law? How petty the soul which could be screwed down to prefer a court to camp!" He resolved to raise a company, but decided to take the bar exam before going.
At the bottom of his exam paper, Lew wrote: "I hope the foregoing answers will be to your satisfaction more than they are to mine; whether they are or not, I shall go to Mexico." A few days afterwards he received his answer: "The Court interposes no objection to your going to Mexico."
Lew went to Mexico without a license to practice law, but he did take with him his father's approval. He wrote about their leave-taking in his autobiography:
We went afoot to the wagons. My father marched with me. He was in the prime of manhood; a soldier by education, he should have been at the head of the whole Indiana contingent. At my side, keeping step with me, he trudged along through the dust. The moment came for me to climb into the wagon. Up to that he had kept silent, which was well enough, seeing I had only to look into his face to know he was proud of me and approved my going; then he took my hand and said:

"Good-bye. Come back a man."

Suddenly I gave him a shower of tears.
The 1st Indiana in Mexico
Just two months later, the regiment landed in Texas on July 20 and established a camp on Brazos Island at the mouth of the Rio Grande. Wallace anticipated great adventure, but with disease running rampant through the camp, the regiment moved nine miles inland to Camp Belknap. Belknap proved to be a worse location—swampy and a mile from clean water, not to mention nowhere near the fighting. Lew learned the Manual of Drill so well that he drilled his company in his captain's place.
In December, the 1st Indiana was ordered to Matamoros. Along the way Mexican guerrillas fired on them. The 1st Indiana drove them back—Lew's first taste of battle. In March 1847, the 1st Indiana marched to Monterrey. They remained there until May 24, 1847.
The 1st Indiana Volunteers spent most of their time in Mexico guarding supplies at the mouth of the Rio Grande. The company faced more danger from dysentery than battle. Though he fought a few skirmishes and saw the aftermath of the Battle of Buena Vista, Lew didn't participate in any major actions. This was a great disappointment to him.
Remember Buena Vista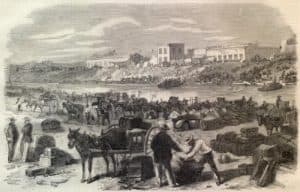 At the Battle of Buena Vista, the 2nd Indiana Volunteers were accused of cowardice by General Zachary Taylor. Ordered to retreat, some of the men left the field of battle in confusion. However, many others were rallied by another unit and remained in the fight. Lew Wallace, though he was not even there, never forgave this slight to his state. He would later dedicate three chapters of his autobiography to vindicating the Hoosier soldiers at Buena Vista.
Although Lew did not see significant action in the Mexican War, he saw and learned much. This experience whetted his appetite for military life. Throughout the 1850s, he continued his own personal military training in Montgomery County. In 1861, he rallied Civil War volunteers with the cry "Remember Buena Vista!" As illustrated in newspapers across the country, this event became one of the early popular images of Union troops heading off to glory.
Leaving Mexico
In May 1847, Lew's regiment began the process of mustering out. They left camp at Walnut Springs for the mouth of the Rio Grande, where they waited for transport ships. While there, Lew strolled out to the dunes that had served as a burying ground for soldiers killed in battle.
A shocking sight greeted him–the elements had exposed many of the graves. Lew reported to his seniors what he had seen. His colonel ordered Wallace to take a work detail out to rebury the remains. Lew wrote about this late in life:
The sorrowful duty done, I lingered to take a farewell look at the shifting cemetery, wondering if the government would ever set about bringing the bones of the brave back to Indiana. Fifty years are a long time out of one's life to wait for anything; and now I know that accomplishment will never be. The poor fellows are abandoned. Even the home folk last to love them are themselves departed. Only the Great Gulf lifts a voice for them—an inarticulate, everlasting moan.
Before long, Wallace and his comrades boarded the transports. Lew was leaving Mexico, but he would never forget her. His first novel, The Fair God, dealt with the Spanish conquest of the Aztecs.