Lew Wallace is widely remembered for the successful movie interpretations of his masterwork Ben-Hur in 1925 and 1959. These were not the only times the General's name (and even the General) showed up in Hollywood movies.
In 1914, Wallace's book, The Prince of India, was adapted as a silent movie. This forty-four minute film moved along at a rapid pace and bore little resemblance to Wallace's book. Starring Thurlow Bergen and William Riley Hatch, the plot involved a devil-may-care newspaper reporter, a stolen gem, a fun-loving Indian prince, a temptress, and a climatic scene with a run away trolley car. Lew Wallace would not have been pleased with the artistic license taken in the filming of this movie.
Early Western Movies
The general himself has been represented in several movies. One such movie was Land Beyond the Law (1937) which starred Dick Foran. Foran was a matinee idol of "B" movies and one of the movie industry's most successful singing cowboys. Foran plays wild and woolly Chip Douglas, who becomes a lawman after his father is killed in New Mexico territory. Through Chip's efforts he helps avoid a range war. Although uncredited in the movie, Governor Lew Wallace is portrayed by Joe King.
Strange Lady in Town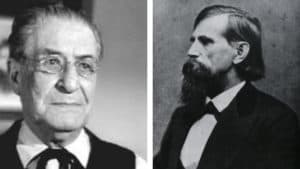 In 1955, director Mervyn LeRoy brought Wallace to life in Greer Garson's, Strange Lady In Town. The movie co-starred Dana Andrews and Cameron Mitchell.
Garson sets a western town on edge when she arrives and begins her own medical practice. Her first patient in Santa Fe has a toothache and is brought in by Billy the Kid. After all sorts of intrigue, Garson's character attends the Governor's ball. There she meets Governor Lew Wallace, who mentions two things. First, that he is working on a novel called Ben-Hur, and second, that he has a chronic heart condition. The ever helpful lady doctor suggests perhaps his collar is too tight.
The actor who portrayed Lew Wallace was Ralph Moody, a big, burly man who looked nothing like the real Lew Wallace. Moody often played gruff old men or Native Americans. His extraordinary acting career lasted from 1948 to his death in 1971 and included well over 100 appearances in movies and TV.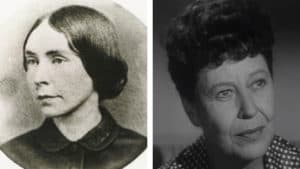 In addition, Strange Lady in Town introduced audiences to Susan Wallace in one of her rare portrayals on screen. Mrs. Wallace was portrayed by Louise Lorimer. Like Ralph Moody, Lorimer was a talented actress who worked steadily from 1934 until her retirement at age 87 in 1985. She played alongside some of Hollywood's leading lights in both the movies and on TV. Her appearance as Mrs. Wallace was only slightly closer to reality than Ralph Moody's presentation of Lew Wallace.
Documentary Movies
More recently Wallace has been portrayed (often more accurately) in documentaries and videos, including a 2006 film called: No Retreat from Destiny: The Battle That Rescued Washington. This production tells the story of the Battle of Monacacy. On the History and Discovery Channels, documentaries on Billy the Kid often discuss Wallace's governorship using period photos and an occasional actor portraying Wallace.
Iconic Moments in Fiction
Beyond the feature movies, Wallace's Ben-Hur also appeared in books and movies as part of the plot.
In Raymond Chandler's The Big Sleep, famed private eye Philip Marlowe enters a book store he believes is a front for evil doings. In an effort to trap the woman running the store, Marlowe asks: "Would you happen to have a Ben Hur 1860?"
She asks, "A first edition?"
Marlowe replies, "Third. The one with the erratum on page 116."
The lady obviously doesn't know her Ben-Hur! It was published in 1880 and there is no edition with an erratum on page 116. Realizing this, Marlowe knows she isn't the store owner.
In another iconic moment in fiction, Anne of Green Gables, Anne is caught reading Ben-Hur at school when she is supposed to be studying another subject.
For over 130 years Ben-Hur and Lew Wallace have been part of popular American culture. The impact of Wallace's book is demonstrated in the many ways it and its author have been incorporated in other creative endeavors over the past century. Keep your eyes open and ears tuned, as you never know when Lew Wallace or Ben-Hur will show up to move a plot along.
Sources: Marie Stocks for finding blog comments on the Slate article regarding Wallace in the movies and Kyle Gobel for watching The Big Sleep. Internet Movie Database (IMDb)