On April 22, 1861, Oliver P. Morton, Governor of the State of Indiana and Commander in Chief of the Militia signed the enrollment paper for Mahlon D. Manson as Captain of the Crawfordsville Guards. Lew Wallace countersigned the enrollment. Before, during, and after the Civil War, the lives of Mahlon Manson and Lew Wallace intersected many times.
Mahlon Manson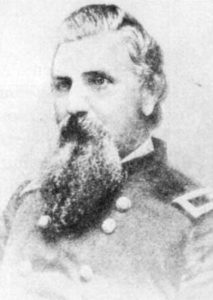 Mahlon Dickerson Manson was born in Piqua, Ohio, about 1820. His father died when Manson was three years old. As a young man, he became a clerk in a druggist store and continued to pursue that profession. In 1842, he moved to Montgomery County, Indiana, where he taught school and pursued a medical degree by attending classes at the Ohio Medical School in Cincinnati and by taking a course or two in New Orleans. Although he pursued a medical degree, it appears he never practiced medicine and instead continued his career as a druggist.
Like Lew Wallace, when the Mexican War broke out, Mahlon Manson volunteered for service. Unlike Wallace, Manson saw significant action in General Winfield Scott's campaign from Vera Cruz to Mexico City.
After the War, Manson returned to Montgomery County and resumed his career as a druggist. Again like Wallace, he became heavily involved in the Democratic Party and in 1851 was elected to the State House of Representatives. In 1856, he was a delegate to the National Democratic Convention that nominated James Buchanan and John Breckinridge. He continued his support of the Democratic Party in 1860 when he supported Stephen A. Douglas for President.
Battle of Mill Spring
When war broke out in 1861, he took an active part in raising the first company in Montgomery County under Lew Wallace. Company G of the 10th Indiana selected Manson as Captain. He was quickly promoted to Major and just ten days later to Colonel. In June 1861, he participated in the Battle of Rich Mountain in (West) Virginia and in January of 1862 he was involved in the Battle of Mill Spring (Kentucky). His troops then removed to Louisville, Kentucky, and for much of the spring and early summer he remained in the area, receiving a promotion to Brigadier General.
Battle of Richmond, Kentucky
One battle some early biographers minimized was the Battle of Richmond, Kentucky. Kentucky was a border state during the War. Indiana Governor Oliver P. Morton was deeply concerned the Confederates might occupy Kentucky.
In the summer of 1862, rumors began circulating about a large Confederate army massing near Knoxville and Chattanooga. By late August, Morton had rushed almost 15,000 men into Kentucky with another 5,000 on the way. General Don Carlos Buell was in charge of the district that included central Kentucky. Buell sent Major General William Nelson along with Brigadier Generals Mahlon Manson and Charles Cruft to take command of the Union troops that were massing in Kentucky.
Unfortunately, Buell didn't send any significant troop support. He believed the true aim of the Confederates was to regain parts of Tennessee lost after Shiloh.
On August 29, the Confederate cavalry moving north in Kentucky encountered Union troops. Manson was in charge of the Union army in the area of Richmond. On August 30, after some early Union success, the Confederates began to take control of the field of battle.
Casualties were heavy; out of approximately 6,500 Union men, 206 were killed, 844 were wounded, and 4,303 were taken prisoner. In contrast the Confederates saw 78 men killed, 372 wounded, and 1 missing.
The Battle of Richmond was the closest thing to a battle of annihilation in the entire war. Manson was one of the Union men wounded (in the thigh) and captured. He was exchanged in a prisoner swap two months later. The few Union troops left after the battle fled to Louisville leaving much of central Kentucky and Cincinnati open and vulnerable—enter Lew Wallace and his defense of Cincinnati.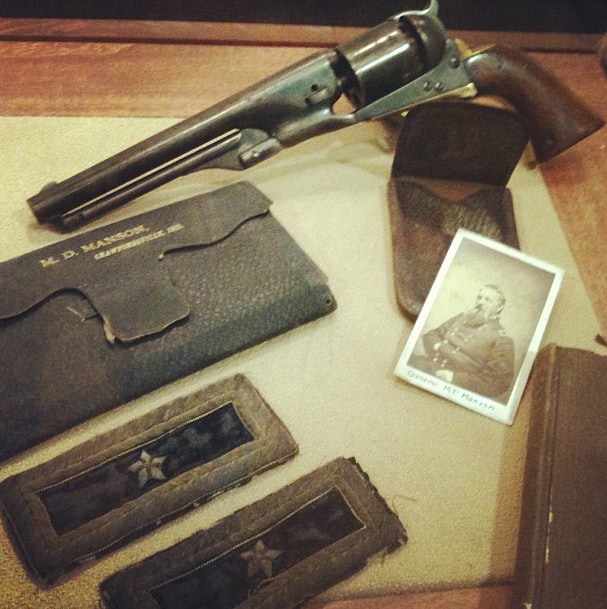 The Atlanta Campaign
Despite his stunning defeat at Richmond, Manson's military career was not over. In May of 1864, Manson fought in the Battle at Resaca (part of the Atlanta campaign) where he was again wounded. Manson jumped up on the defensive works and was struck by a piece of shell that permanently injured his right shoulder. Ironically, he was attempting to demonstrate to General Haskell how he might best avoid enemy fire at the time.
Manson's men carried him from the field. He returned to duty a few days later, but then had to be taken to Nashville. He spent nearly three months in the hospital in Nashville. Realizing that he would not be able to be fully effective, he resigned his commission in December of 1864.
Wallace's Defense of Cincinnati
With the catastrophic Union defeat, the Confederate army was poised within about eighty miles of both Louisville and Cincinnati. Wallace, who was in the area, took command of the troops in Cincinnati and prepared the basically defenseless city for a likely Confederate attack.
Wallace's extraordinary organizational skills and military acumen served him well. Within about ten days, he had transformed the defensive perimeter around Cincinnati as well as Newport and Covington, Kentucky. After a brief skirmish with the troops of Confederate General Henry Heth, on September 11, Wallace awoke on the 12th to the news that that the Confederates had withdrawn and Cincinnati had been saved from invasion.
The lives of Manson and Wallace continued influencing one another. As a result of the Battle of Richmond, a military commission investigated Major General Buell's performance with respect to the invasion of Kentucky. Lew Wallace became chair of the Buell Commission, which effectively removed him from battle command for the balance of 1862 and much of 1863.
Manson's Post-war Career
After the war, Mahlon Manson continued his active involvement in the Democratic Party. In 1864, he ran for Lieutenant Governor but lost. In 1866, he ran for Secretary of State but lost. Then in 1868, he ran as Representative of the 9th District in Congress—and again, lost.
In 1870, Manson ran for Representative a second time, and he won—defeating Lew Wallace!
At this time, Manson also served on the Committee on Invalid Pensions. In 1873, he became a member of the State Democratic Committee. He became its chairman in 1875. By 1876, Manson was lobbying on behalf of Democratic interests in the controversial presidential election. In that same election, Wallace represented Republican interests. In 1876, Manson became State Auditor and Lieutenant Governor in 1884. He resigned his post as Lieutenant Governor to accept a post as a Collector of the Internal Revenue Service in Terre Haute.
Lew Wallace and Mahlon Manson
Beyond their political intersections, Manson and Wallace would have crossed paths in other ways. The Mansons and Wallaces were both members of the Methodist Church in Crawfordsville. Both men were members of the Grand Army of the Republic and the local Masonic Lodge. Both men were involved with the building of the Soldiers and Sailors Monument in Indianapolis. Finally, both were laid to rest in Oak Hill Cemetery.
The parallels in the lives of Manson and Wallace, two of Crawfordsville's five Civil War generals, are striking. Even the closing comments of one 19th century Manson biographer would equally describe Wallace.
"An eloquent orator, he commands the attention, convinces the reason, arouses the enthusiasm and awakens the zeal of his hearers. A brave and gallant soldier, a prudent and conscientious statesman, a public spirited citizen, a faithful friend, an honest man in business, and a true man in all the relations of life, it is not surprising that he holds a high position in the esteem and affection of the people of the State. He rose from poverty to justly deserved eminence and the bright light which beats upon his life discovers no flaw in his character. Not by accident or aid of others, but by earnest toil, constant perseverance, through smoke and blood of battle, he has attained success in life, military glory, political and social popularity and the love and honor of his fellow-citizens. Such men as he make all men their debtors."